20 January 2017

Print from the 'Dollhouse' AW17/18 collection by Lena Hoschek used for Kissa tea 'Supermodel's Secret'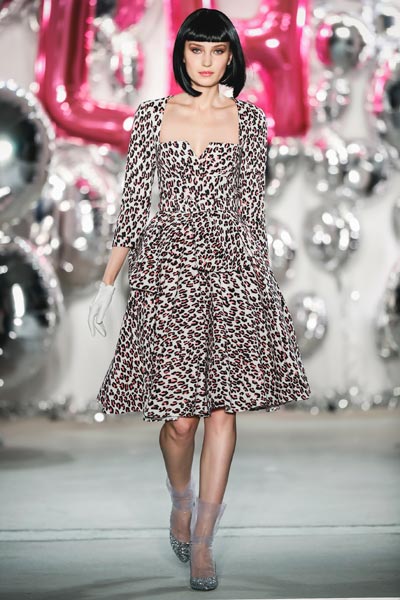 From 25 January, the limited edition of 'Supermodel's Secret' matcha (image below) by the Austrian tea brand Kissa in 'Dollhouse' pink-leo packaging-print by Lena Hoschek will be available in a sweepstake on Kissa's Facebook. Guests of the catwalk show of Lena Hoschek's 'Dollhouse' AW2017/18 collection during Mercedes-Benz Fashion Week Berlin received the tea in pink-leo packaging already as present. For 'Dollhouse', the Austrian designer Lena Hoschek mixed elements from various decades of fashion history like the 50s, 80s into a kaleidoscope-like view on femininity for cocktail dresses, trench coats, evening gowns, day wear dresses and skirt, top, jacket combinations. The pieces have one in common: they are playfully (Disney's Mickey Mouse, lipsticks, or leo prints) subtle (female décolletés, accentuated waists and hips).
fig.: A model walks the runway at the Lena Hoschek show during the Mercedes-Benz Fashion Week Berlin AW 2017 at Kaufhaus Jandorf on January 17, 2017 in Berlin, Germany. Photo by Peter Michael Dills/Getty Images for Lena Hoschek; (C) 2017 Getty Images.
fig. below: 'KISSA x Lena Hoschek' special edition of the 'Supermodel's Secret' matcha tea.