CIBELES MADRID FASHION WEEK
18 - 23 February 2010
at Feria de Madrid
Spanish designers on authenticity and love
The Spanish designers Ion Fiz and Agatha Ruiz De La Prada had shown together with more than 50 designers the new fall/winter 2010/11 collections on 6 days from 18 to 23 February 2010 at the Cibeles Madrid Fashion which was visited in September 2009 by 50.000 people. For the first time, fashion bloggers were invited to the 'Asus BloggerSpace' to report their points of view on the participating designers to their community of virtual followers.
Cibeles has structured the fashion week into 43 fashion shows to give an insight into the creativity of Spanish fashion designers.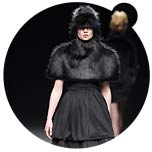 fig.: Ion Fiz 'My Way' women's collection fall/winter 2010/11 on the catwalk on 23 February during the Cibeles Madrid Fashion.

Authenticity
The Basque fashion designer Ion Fiz, announced by Cibeles as one of the most renowned names of the country's fashion scene, is an enfants terribles of Spanish fashion. Ion Fiz entitles his collection 'My Way' in respond to Diana Vreeland's approach to perfection which lies in authenticity and in the differentiation to others. Ion Fiz works elegantly on 'geometria-asimetrica' like a mathematician who tries to find a new formula for calculating perspective. He is breaking the common forms to evoke the impression of volume.
Ion Fiz' colors which are described with culinaric words such as champagne or chocolate are inspired by classical master painters like Velázquez and Goya.

Love
Video: On 19 February, Agatha Ruiz de la Prada had shown her fall/winter 2010/11 collection during the Cibeles Madrid Fashion Week.
The Spanish designer Agatha Ruiz De La Prada, who started her career in 1980, became internationally renowned - even at non-fashion addicted groups - when 'Borat' Sacha Baron Cohen as Bruno appeared on her catwalk during the Milan Fashion Week in September 2008 youtube.com/watch?v=1fWsiz7sIcg.
The world of the designer reflects her political activities for 'Green' themes; the globally understandable flowers and organic forms express love and optimism.

Source: Original article with image and video on http://www.confashion.com/fw2010/madridfashion2-2010.htm.


more fashion.at/mobile>
News from
December 2009 - January 2010
December 2009
November - December 2009
September - October 2009
July - August 2009
May - July 2009
April - May 2009
Jan - March 2009
October - December 2008


subscribe
terms
imprint
Sawetz (C) 2008/9/10