MEN'S JEANS STYLE
spring/summer 2010
fall/winter 2010/11
beauty by Burberry
fashion by Seidensticker, G-Star by Marc Newson, Lee, G-Star
James Dean inspires a male outfit
Fashionoffice's selection of the first piece happens randomized. There was at the first sight this man, leaning on the wall in a magenta-berry shirt. His body-gesture has the James Dean a-like conflicting appeal. The next pieces had to be consequently jeans that are re-created after the trousers from Jeans Dean in the movie 'Giants'. Now he needs a jacket! For Jett Rink (the name of the role James Dean played in 'Giants'), it must be a streetwear jacket with couture elements and a print that reflects his ambition. Yes, and boots for the horse riding cowboy in Texas. And a scent that is fresh and light.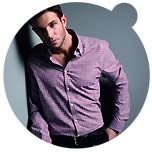 fig. original clockwise beginning with the man in the...
Magenta/berry shirt in a check of fine lines by Seidensticker, FW2010/11. Seidensticker advices to combine the red tones with neutral or dark colors.
G-Star Raw Galaxy Jacket with all-over Galaxy print on Paclite Goretex by Marc Newson, SS2010. The indigo blue classic sportswear jacket in a new interpretation by Marc Newson is exclusively available in trend stores like Colette in Paris, Moss in New York and Moss and Maxfield in Los Angeles, etc.
Since 2003, the Australian industrial designer Marc Newson has designed several collections in cooperation with the Amsterdam headquartered denim label G-Star.
For the SS2010 cooperation, Marc Newson has used couture-fabrics for streetwear pieces such as ultra-soft, perforated leather or high-quality silk.
Before his career started, Marc Newson has studied jewelry at the Sydney College of Arts.
Video: In summer 2009, the Paris High Jewelry House Boucheron, founded in 1858, presented the necklace 'Julia' designed by Marc Newson.
The name 'Julia' is the second name of the French mathematician Gaston Julia who discovered the formula for the 'Julia set', an elaborated form of set theory and fractal geometry. Probably the same idea is behind the galaxy on the jacket too: each part is a reduced-size copy of the whole.
Burberry Summer for Men, SS2010. Perfumer Emilie Coppermann has created the seasonal interpretation of the classical fragrance 'Summer' for 2010. Burberry Summer is an easy to wear, very light and fresh scent.
Dark-blue boots by G-Star Raw, SS2010.

Lee Rider 1955 '101-Z', SS2010, are designed after the original jeans that were worn by James Dean in the Oscar-awarded role 'Jett Rink' in 'Giants' in 1955. In the 50ies, jeans become 'must haves' of the youth culture not at least because of iconic actors like James Dean.
Video: In the same year that James Dean worked on the movie, Magnum photographer Dennis Stock produced a visual biography about the young actor who was at that time not already the icon he later became.

Source: Original article with images and videos on http://www.beautyme.com/fragrance/2010/mensjeansstyle3-2010.htm.


more fashion.at/mobile>
News from
December 2009 - January 2010
December 2009
November - December 2009
September - October 2009
July - August 2009
May - July 2009
April - May 2009
Jan - March 2009
October - December 2008


subscribe
terms
imprint
Sawetz (C) 2008/9/10