SKINY
spring/summer 2010

Vienna Insight by Karin Sawetz, March 2010
"It looks as if they would prefer to run."
The 18th March was the first sunny and warm day of 2010 in Vienna. The Austrian underwear label Skiny (founded 100 years ago; today it belongs to Huber Holding) has invited to the presentation of the new 'Aqua Collection' to the (indoor) swimming pool of the Hotel Le Meridien.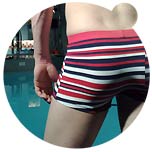 fig.: Male model in 'Club Azur' short in ginger stripe by Skiny, SS2010. I have taken the picture with the camera of my mobile phone.

The show was divided into two parts: at first, the Skiny creative-team explained the collection and its pieces while the models walked slowly on the catwalk. A colleague sitting beside me remarked that the male models seem to work hard to go so slow: "It looks as if they would prefer to run." Then, a fashion show with music and styled up models finished the press-brunch in the hotel.
One of Skiny's signature patterns are stripes which can also be seen on the photo right. Red and dark blue, black and blue, black and yellow, azure blue and flash blue are the main color combinations of this collection.
Alongside to the 'Club Azur' pieces, Skiny presents for spring/summer 2010 the lines 'Oracle', 'Underwater', and 'Global Surf'. Unfortunately I don't have any photos from these lines. For my camera, even slowly walking models are too fast! I had great luck that the one with the ginger 'Azur Club' shorts posed in front of me.

Photo update
fig. original: On the same day, later in the evening, Fashionoffice received professional photos from the swimming pool presentation, which I don't want to hide: on the following photo you can see models wearing pieces from the new collection and in the middle designer Barbara Klus (she stands directly behind the model in the 'Club Azur' shorts, which you can see partly on the photo above), and right beside her Janine Weiz, head of marketing and PR of Skiny. Barbara Klus has explained the designs in front of the journalists.


Karin Sawetz is journalist, media researcher and fashion scientist (Mag. Dr. phil.). > sawetz.com

Source: Original article with image on http://www.fashionoffice.org/collections/2010/skiny3-2010.htm.


more fashion.at/mobile>
News from
December 2009 - January 2010
December 2009
November - December 2009
September - October 2009
July - August 2009
May - July 2009
April - May 2009
Jan - March 2009
October - December 2008


subscribe
terms
imprint
Sawetz (C) 2008/9/10