MAISON MARTIN MARGIELA
spring/summer 2011

Flowers!
On 24 January 2011, Maison Martin Margiela presented the new 'Aritsanal' spring/summer 2011 collection inspired by flowers during the Haute Couture shows in Paris.
Although the SS2011 is a 'flower'-collection, it still keeps the cool Martin Margiela-appeal; not only because the models are styled up with aviator sunglasses to evening wear. The collection could also be read as a story about a natural sensation of a beautiful plant like a flower that grows under the sun and lives from the water of the earth.
The clou of the 'Artisanal' collections by Maison Martin Margiela is that the pieces are reworked garments, accessories, objects that are collected by the label from everywhere across the globe since its beginnings in 1988.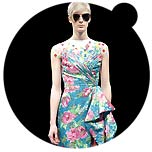 fig. original: Such as the dress on this page: the base material comes from a vintage cocktail dress; the watery sparkling plastic sequins extend the flower pattern of the dress, which is reworked into an evening gown.
The catsuit on the left side (of the original image) is embroidered with nude colored ribbons that become on the shoulders wild red-orange sunny 'flames'.

Source: Original article with images on http://www.fashionoffice.org/collections/2011/martinmargiela1-2011.htm.


more fashion.at/mobile>
News from
January 2011
December 2010
November 2010
October 2010
September 2010
August 2010
July 2010


subscribe
terms
imprint
Sawetz (C) 2008/9/10