Ramones t-shirt by Amplified
Vintage collection, launched in February 2011
Re-listen: 'Baby I love you!' by the US punk rock band Ramones
On 14 February 2011, Fashionoffice re-listened the song 'Baby I love you!' by the US band Ramones (1974 - 1996, pioneers of punk-rock), while searching for more information about the musicians of the new t-shirt collections by Amplified (rock fashion label that belongs to Universal Music).
For the Vintage collection, Amplified's designers have re-interpreted the signature graphical appearances of musicians like Madonna, Pink Floyd, Gorrilaz, Linkin Park, to name a few, in bright colored prints that remember pop-art and are inspired by the 80/90s.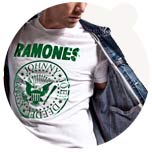 fig. original: 'Green Foil' Ramones (the logo is originally designed by Arturo Vega) on a cotton t-shirt in white with green writing (in the circle are the band members' names: Johnny, Joey, Deedee, Tommy) from the Vintage collection by Amplified, launched in February 2011.
Wikipedia contributes an own paragraph to the history about the 'Visual Imagery' of the Ramones such as their outfits consisting of leather biker-jackets, tight jeans, t-shirts, sneakers and hair with long fringe, but also about the creation of the logo by Arturo Vega, who "produced the band's t-shirts, their main source of income..." during the band's beginning. wiki/Ramones
Video: Ramones live on stage during the 'Top of the Pops' on 31 January 1980.

Source: Original article with image and video on http://www.fashionoffice.org/music/2011/ramones2-2011.htm.


more fashion.at/mobile>
News from
January 2011
December 2010
November 2010
October 2010
September 2010
August 2010
July 2010


subscribe
terms
imprint
Sawetz (C) 2008/9/10