SCOOTER STYLE
spring/summer 2011

fashion by Peak Performance, Diesel
sunglasses by H&M
motor by Honda
jewellery by Pierre Lang
beauty by Tautropfen
shoes by Diesel
A sunny, rainy day on a scooter
Imagine a sunny, rainy day at the French Riviera, the drops are heated up, only the airstream on the scooter is fresh - sometimes too fresh. The air is mixed with the salty breeze of the sea and the water on the streets radiates under the sun.
Fashionoffice collected some items for a ride on a scooter to the coast for a barefoot run in the sand.

A trench against the rain drops, sunglasses to protect from the rays, a sportive top and swimwear pants in jeans look for the run on the beach... and a scooter.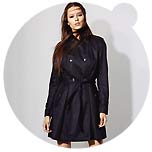 fig. original:
Trench in navy blue from the 'Casual'-collection by the Swedish sports-fashion label Peak Performance, SS2011. The Peak Performance designers had been inspired for this collection by the easy, sportive lifestyle near the beach area of Los Angeles and mixed it with the classical university culture look.

Sunglasses with round metallic frames by H&M, available during March and April 2011.
Scooter SH300i in a new, more dynamic design and with environmental friendlier motor by Honda, presented in February 2011. Photo: (C) Quality Lab srl.
Leather-bracelet with a metallic plate that is decorated with crystals; designed especially for the combination with casual wear by Pierre Lang, SS2011. Photo: Pierre Lang.

Turtle-neck sleeveless top in black and grey from the 'Active'-collection by Peak Performance, SS2011.
Swimwear pants in jeans look by Diesel, SS2011.
Ankle boot wedges in washed denim by Diesel, SS2011.
Hand balm 'fluidum' with ingredients of the French Atlantic (Bretagne) by the natural cosmetics label Tautropfen, seen in February 2011.

Source: Original article with images on http://www.fashionoffice.org/motor/2011/scooterstyle2-2011.htm.


more fashion.at/mobile>
News from
January 2011
December 2010
November 2010
October 2010
September 2010
August 2010
July 2010


subscribe
terms
imprint
Sawetz (C) 2008/9/10