MEN STYLE
spring/summer 2011
fall/winter 2011/12

fashion by Dsquared2, Emporio Armani, Burberry
beauty by Kiehl's, Bond No. 9
lifestyle by Starbucks
Enjoy your life!
For spring 2011, Fashionoffice has collected some pieces just under one simple motto 'Enjoy your life'.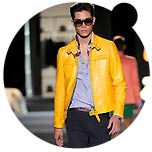 fig. original:
Sportive peach-yellow leather jacket, white-blue striped shirt, dark trousers, and sunglasses by Dsquared2, SS2011.
'Gigolo' is the theme of the men's wear collection SS2011 by the self-defined 'born in Canada, made in Italy' brand Dsquared2 by the Canadian twin brothers Dean and Dan Caten, who started in 1983. In 1991, the designers moved to Italy and launched the own prêt-à-porter men's collection in 1994 in Milan.
The video by FTV.com gives insights into the Dsquared2 backstage scenery at the Milan Fashion Week on occasion of the spring/summer2011 presentation.
Watch 'AR5916' on black rubberized alligator leather strap from the 'Sportivo' collection by Emporio Armani, SS2011.
Sunglasses 'DQ60' in aviator style by Dsquared2, SS2011.
Black leather bag by Burberry, FW2011/12.
Lip balm by Kiehl's, seen in January 2011. The lip balm is even available with flavor (pear, mango, coconut, vanilla).
'New York Oud' fragrance for men and women by Bond No. 9, release date 14 February 2011. The fragrance is made of the trendy, in the Western world relatively new scent 'Oud' from the Arabic world. Oud is an aromatic resin from a tree and is used in the last years especially for exclusive perfumes such as by Kilian or Tom Ford.
Valentine's Day cup 'Sending with Love' by Starbucks, 2011. Photo: (C) Starbucks.

Source: Original article with images and video on http://www.confashion.com/ss2011/spring-menstyle1-2011.htm.


more fashion.at/mobile>
News from
January 2011
December 2010
November 2010
October 2010
September 2010
August 2010
July 2010


subscribe
terms
imprint
Sawetz (C) 2008/9/10