WOMEN & KIDS STYLE
spring/summer 2011

fashion by Burberry, Replay, Diesel, Geox
beauty by Burberry, Paul Mitchell
The eye of the camera
Behind the scenes of the fashion world it is as interesting as from the angle of the front row.
Because even here, the ones who are posing for the camera are still looking nicer than the rest. What's not so difficult as their look is created by a team of stylists, who work behind the scenes on these edgy appearances; not to mention that the models have learned to pose.
But what's the magic of a fashion photographer's camera that kids are looking tame?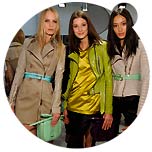 fig. original:
The backstage video by Vmagazine.com from the presentation of the Burberry SS2011 collection and the photo below show biker-trench inspired pieces in fresh spring colors like citrus, spearmint, trench... Photo: (C) James Cochrane September 2010.
The Burberry Beauty line such as the 'Light Glow Tangerine'-blush and the lipstick 'Delicate Rose' (both from the SS2011 collection, in shops in April) premiered in September 2010 on the catwalk in London, applied by makeup artist Wendy Rowe. Burberry presents for SS2011 the looks 'Natural', 'Effortless', and 'Sun-kissed' with an interesting tip: you can enhance your look by adding a light colored (grey or rose) eye shadow under the eye onto the socket line.
Kid's shampoo 'Baby Don't Cry' for tearless hair cleansing (can also be used for bathing) by Paul Mitchell, seen in February 2011.
Hoody with patches that are taken from the world of sports by Replay&Son, SS2011.
T-shirt, gilet, bermudas by Replay&Sons, SS2011. The designers of Replay had been inspired by kids who are playing outdoors "and are always on the lookout for a new adventure to dive into. Their lively imagination carries them off into fantastic worlds where they can be just what they want to be."
High heels in Ancient Rome meets Modern Manhattan style by Diesel, SS2011.
Sport shoe with breathable sole 'Junior Light Eclipse' by Geox, SS2011.

Source: Original article with video and images on http://www.confashion.com/ss2011/spring2-2011.htm.


more fashion.at/mobile>
News from
January 2011
December 2010
November 2010
October 2010
September 2010
August 2010
July 2010


subscribe
terms
imprint
Sawetz (C) 2008/9/10