WOMEN STYLE
spring/summer 2011

fashion by Calida, Prada, Puma
lifestyle by Perrier Jouët, Rossignol & HP
beauty by Clinique, Veld's
Lust for living!
Fashionoffice collected some pieces, which are sparkling spring lifestyle...
...like cotton-rib underwear in energetic sunny yellow, a bottle in flower design by a Champagne-house that started with a love story, a new fruity-flowerish fragrance that promises freshness, a notebook decorated with flowers inspired by freeriding...
Berry colors, bright sunny yellows, fruity-flowerish designs, scents, and sportive elements are the ingredients of spring.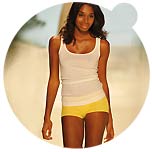 fig. original:
White tank-top and yellow panties made of cotton-rib in new interpreted 1940s style by Calida, the 'Celebration'-collection comes as limited edition into shops on 1 February 2011. Photo: (C) Trendspot-Hugentobler.
The European fashion label Calida, founded in 1941 in Switzerland, celebrates this year its 70th anniversary. In 1941, Calida's first underwear collection was sold with a recycling-offer. The 'guaranteed underwear'- promise was that defective items would be repaired at no cost.
Champagne Cuvée Belle Epoque by Perrier Jouët, presented in January 2011. The bottle on this page was designed in 1902 by the Art Nouveau glass artist Emil Galé. The bottle's content is a creation by Perrier Jouët's winemaker Hervé Deschamps.
The French Champagne house Perrier Jouët celebrates in 2011 its 200th anniversary. The history begins with the love story between Pierre Nicolas Perrier from the Champagne und Rose Adélaide Jouët from the Normandy. One year after their marriage, they have founded in 1811 the own Champagne house 'Perrier Jouët', which keeps the family's art of producing Champagne until today as a secret; in the last 200 years, only 7 winemakers had worked for Perrier Jouët. The berries for the special wine grow on the famous earth of the 'Champagne' in France, which give the exclusive beverage its name.
'Happy in bloom' is a fresh-fruity-flowerish spring fragrance by Clinique, comes into shops in February 2011.
Soft-toned face care gel 'Roibos Flash Repair' with extracts of green Roiboos tea by Veld's, advised to get a refreshed and prepared skin for the first sun rays in Spring. It is instructed to use it under the daily sun protection.
'Pavilion dv6' notebook 'Attraxion VIII Echo' in Rossignol design by HP, launched in January 2011 together with the new ski collections. Photo: HP. The French ski label Rossignol partners with HP for the special editions (one for women like on this page, one for men) of notebooks that are inspired by a sportive lifestyle in the mountains, on skis, snowboards, freeriding.
Sportive sunglasses by Prada, SS2011. The metal detail on the frame looks like the bridge of aviator glasses.
Running shoes 'Ventis' in pink-berry and peach-yellow by Puma, SS2011.



Source: Original article with images on http://www.fashionoffice.org/collections/2011/springstyle1-2011.htm.


more fashion.at/mobile>
News from
January 2011
December 2010
November 2010
October 2010
September 2010
August 2010
July 2010


subscribe
terms
imprint
Sawetz (C) 2008/9/10