WOMEN STYLE
spring/summer 2011

fashion by Grüne Erde, Palmers
jewellery by Mango
sunglasses by D&G
shoes by Daniel Hechter
beauty by Annemarie Börlind, SBT Skin Biology Therapy
Fashion that survives more than one season
Fashionoffice has collected some pieces that are following the sustainable design concept of staying in fashion longer than one season - until the clothing falls from the body like a second skin.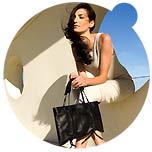 fig. original:
Tank-top-dress made of organic cotton in the powdry color sand, cork-wedges with naturally tanned black leather, and shopper in sheepskin from the 'Organic Fashion'-collection by Grüne Erde, SS2011.
The first 'Organic Fashion'-collection by the Austrian home interior label Grüne Erde was launched last year. For SS2011, Grüne Erde (means 'Green Earth', founded 28 years ago) provides pieces made of sustainable materials like organic cotton or linen from European environmental-friendly agricultures, and produced by manufacturers that are following the idea of 'fair-production'. Even the design concept bases on the sustainable idea; the items can be used for different situations such as sportive activities, for a relaxed city style or as part of business outfits - the outfit gets its look through the combination of the single pieces. Additionally, the designers of Grüne Erde have focused on basics which stay in fashion for more than one season.
Finger-ring 'Leon' with black stones on patina colored metal by Mango, SS2011. The ring looks like it grows since the Middle Ages and is steadily multiplying itself.
Aviator unisex sunglasses '8078' designed for 'on-trend traditionalists' by D&G, 2010/2011.
Powderrouge in classical 'Magic Brown' with oil of jojoba and macadamia nut from the 'Tropical Dreams'-collection by the natural cosmetics label Annemarie Börlind, comes into shops in March 2011.
High heels 'Havanna' in the color 'espresso' with raw leather knot and functional straps by Daniel Hechter, SS2011. Photo: Erich Rohde GmbH.
'Cell Culture Balance Care' hydrating face care by SBT Skin Biology Therapy, comes into stores at the end of February 2011. The hydro light version is for oily skin and acts against a dry and scaly feeling.
Swimsuit 'Madella' with elegant snakeskin print by Palmers, SS2011.

Source: Original article with images on http://www.fashionoffice.org/collections/2011/womenstyle2-2011.htm.


more fashion.at/mobile>
News from
January 2011
December 2010
November 2010
October 2010
September 2010
August 2010
July 2010


subscribe
terms
imprint
Sawetz (C) 2008/9/10