22 October 2015
The visual-music concert 'Electric Church' 2015 throws a new light on women in the bible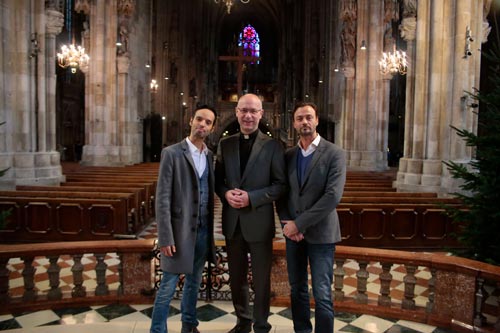 Today, 'Electric Church' musical director Sergio Flores, St. Stephen's Cathedral priest Toni Faber and 'Electric Church' founder Robert Otto (on the image from left) invited to the press conference concerning the premiere of the new concert edition under the title 'Legacy of Eve' on 13 November at St. Stephen's Cathedral (Stephansdom) in Vienna. This year, the 'Electric Church' concert performance with visuals by the duo of 4youreye presents new perspectives on strong female characters in the bible. Inspired by the Old Testament, Sergio Flores tells 13 stories of a book a refugee child received from her mother. The refugee child Bath is the center character in 'Legacy of Eve'.
In the afternoon of the day of the premiere on 13 November, children/youth have the chance to attend the concert for a special price (tickets). After the premiere in Vienna, the Electric Church is on tour: Graz/Styria on 4 December 2015, in Linz/Upper Austria on 16 February 2016; concerts in other countries outside of Austria are currently in planning.
Photo: (C) Raphael Moser/leisure.at.