17 April 2015
John Carpenter starring in his new music video 'Night'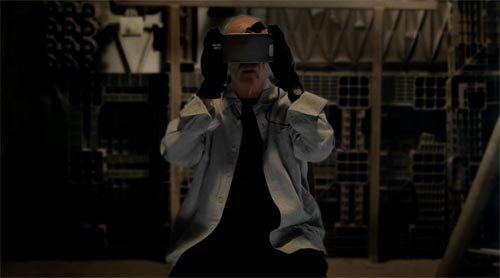 The video for the closing track 'Night' of the new album 'Lost Themes' premiered on 16 April online. It wasn't filmed by the master of horror, director and composer John Carpenter himself. This time, Carpenter is starring in the main role which manipulates with virtual reality glasses on the head and data gloves on the hands a sort of golem. Gavin Hignight (direction) and Benjamin Verhulst (camera) are responsible for the video which leads through city streets at night.
Gavin Hignight about the video: "Upon hearing NIGHT by John Carpenter my head was instantly filled with these nighttime highway road dreamscapes. Someone or something, haunted, traveling the road alone in the late hours.
Our goal was to take that feeling and put it into a video that paid tribute to the film work of Carpenter but at the same time gave him a new world to play in... in this case literally through Virtual Reality."
The album 'Lost Themes' by John Carpenter is available as LP, CD on Sacred Bones Records; digital version with remixes on iTunes.