26 February 2015
mo°sound speakers in luxury porcelain ball by Augarten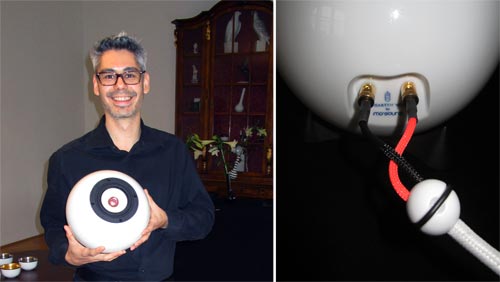 fig.: mo°sound's Ronald Jaklitsch at the press event on occasion of the presentation of the 'Augarten by mo°sound' loudspeakers on 26 February 2015 at Augarten Porzellan in Vienna.

Today, Augarten Porzellan Vienna invited to the presentation of the collaborative loudspeakers by mo°sound.
Already in 2008, designer, engineer and audio technician Ronald Jaklitsch (founder of Vienna-based mo°sound) began to develop speakers for a seamless porcelain sphere. After two years, the first mo°speaker with diameter 17,5 cm was ready. Now, it has a big brother - the collaborative 'Augarten by mo°sound' loudspeaker with 23 cm diameter and made of the luxurious porcelain by Augarten which is normally used for figurines like falcons (at the image in the glass cabinet - they were produced especially after the wish of a customer), vases (in the cabinet and on the table the ones by Philipp Bruni) or table ware-series like the champagne set (left beside Ronald Jaklitsch). mo°sound focuses on the technics of music and design - even the cables (image right, above) are designed by Ronald Jaklitsch.
After the introduction into the collaboration and insights into the making-of, the room was filled with music from the relatively small speakers: a rich and clear sound (porcelain is a low-vibrating material). In an interview in the latest issue of Augarten's own magazine, Ronald Jaklitsch speaks about the ideas behind the spherical form.
fig. below: Augarten Porzellan provided some images from the making-of 'Augarten by mo°sound' loudspeakers at the Viennese manufactory - from the preparation of mold castings to the cast of the plaster form, from the blank over the burning and glaze process to the ready products. Currently, the loudspeakers are exclusively on view at the mo°sound concept store in Vienna; from mid-March, the Augarten loudspeakers will be available at the luxury porcelain label's stores. Photos (below): Augarten Porzellan.