16 March 2015

'wean hean' festival of Vienna folk music with some critical and humoristic tones and Viennese cuisine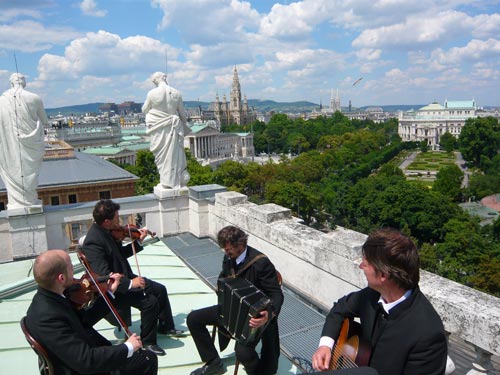 From 16 April until 11 May 2015, the Viennese folk music festival 'wean hean' (means as much as 'Listen Vienna') will happen on various locations through the city. Most of the thirteen events will present contemporary interpretations of the 'Wienerlied', the 'Viennese Song', and on some evenings, the festival focuses on the orchestral Viennese folk music such as the 'Schrammel Music' of a four piece orchestra which is strongly associated with the city's special gastronomy, the 'Heurigen' (a sort of restaurant which belongs in many cases to a winery).
fig.: The image shows the quartet 'Neue Wiener Concert Schrammeln' who will perform on 4 May 2015 at the 'Spontanadln' event at the Bockkeller. Photo: (C) Anton Wieser. The band introduces online (What's Schrammeln?) into this form of music.
The Viennese song uses mainly dialect words which make it sometimes easier to express criticism with cynical humor. The event series starts with the 'Wiener Tschuschenkapelle' ('Tschusch' is a pejorative word for Southern Europeans) on 16 April at the Ankerbrotfabrik where a 'Heurigen'-gastronomy will be arranged especially for the event.
For culinary-music enthusiast, even the 'Wiener Welle' events on 8 and 9 May at the Ottakringer brewery will be interesting. Announced are Viennese cuisine, popular interpreters of the Viennese song like Birgit Denk or Ernst Molden as well as readings of authors of the 'Wiener Kaffeehausliteratur' (special literature about urban living; it's named after the place where it was mainly written - the coffee house). On occasion of the events, the Ottakringer brewery will create a special 'Wiener Welle' beer composition after an old Viennese recipe from the brewery's archive.
The 'wean hean' program is published on wienervolksliedwerk.at.


More music news>