Media information, Feb 2009
FOR IMMEDIATE RELEASE


Keywords used by the users to reach Fashionoffice
The Google Analytics results of the keywords used by the users to reach Fashionoffice over the last six months are an indicator for the interest selected themes/labels evoke online. During the last six months Fashionoffice has collected with Google Analytics - installed on a third-party standard webserver - quantitative (countries, languages ...) and qualitative data (keywords, editorial interests ...). The results are published on fashionoffice.org/survey/.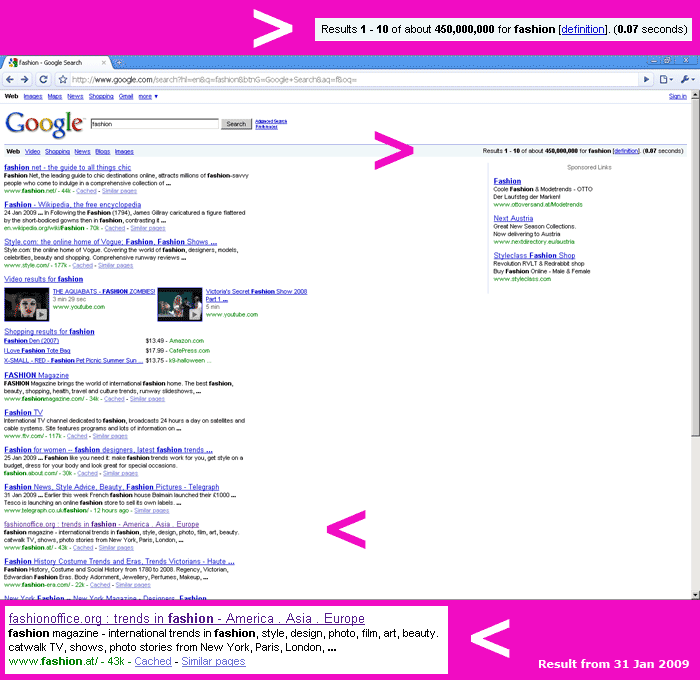 Since 13 years Fashionoffice is one of the most relevant fashion sources online. By using the anniversary-search of Google.com in their oldest available index (January 2001) the magazine ranked with the 'mother' of all Fashionoffice channels fashion.at (founded 1996) on the 3rd place of about 6,840,000 results for 'fashion'. Today, the magazine is still on the first page of 450,000,000 results on worldwide searches for 'fashion' in Google.
Click on the image to enlarge it> Read more about the top-ranking history of the magazine fashionoffice.org/press/2008/mediainfo10-2008.htm.
Fashionoffice researches the interests of users on the channels styleradar.com and beautyradar.com since many years. For the keyword report the original data by Google Analytics are delivering the results. Google Analytics is installed on the sites of each channel. The interests in labels/themes are reflected in the keywords used by the users to reach Fashionoffice.
Results: The label of the magazine itself 'Fashionoffice' is the most attractive keyword. In Fashion, the users are searching for Vanessa Beecroft, film noir, Burberry, Raf Simons, Zegna, (the Austrian model agency owner) Andrea Weidler, Vivienne Westwood, Silvia Troska ... In beauty we can count the greatest interest for Sergej Benedetter, Marlies Möller, Paul Mitchell. On confashion.com, the catwalk TV channel, one label over-trumps all: for Philipp Plein the users are searching in many variations - from Philipp Plein Jeans to Philipp Plein 2009 spring summer, Philipp Plein jeans снимки ...

The corresponding analysis of the favored articles for more information about the reading-behaviour of the users will follow in Feb 2009.
The complete report is published on fashionoffice.org/survey/2009/keywords1-2009.htm.


Check out information about Fashionoffice:
Jan 2009
Media after the Media Revolution
Fashionoffice is starting 2009 with new tools for editorials and advertising>

Jan 2009
Work Space at Fashionoffice.org
Fashionoffice is seeking for fashion, beauty and culture journalists>
Dec 2008
New Tools for Publishers and Media-Planning
How Fashionoffice.org extends reach>
Dec 2008
The Trendletter, RSS and the mobile site of Fashionoffice.org
Editorial strategies>
Oct 2008
Fashionoffice.org celebrates 12 years top-relevance in 'fashion'
10th anniversary of Google and the search in the oldest available Google-index>