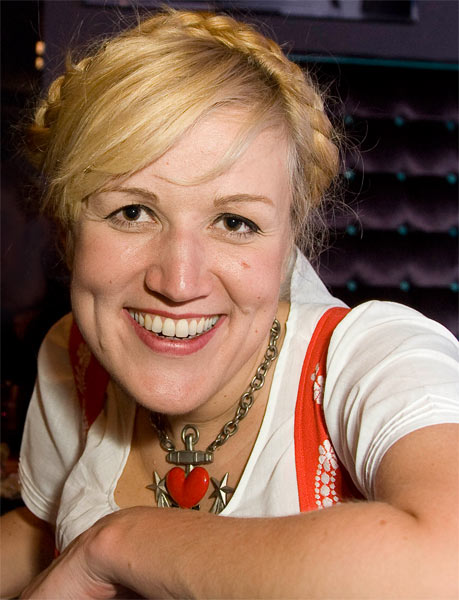 ROSI COBRA
spring 2009


Eating in fresh nature
The trend for eating in fresh nature - even if you are living in a capital city - has caused a new culture for 'picnic'. The picnic happens often on occasion of sportive activities.
fig.: Rosi Cobra aka Daniela Emminger cooks since two years for fashionable people in Vienna, Austria.
Question: Rosi Cobra, what are the must haves for a healthy and fashionable picnic? Are there any basic rules for the 'table wear' and the nutrition?
Rosi Cobra: "The must haves for an unforgettable picnic in Vienna are - next to sunshine and a trendy location like the Schönbrunner Bad (opening: May, 1st, 2009) - a wooden basket full of fingerfood à la Rosi Cobra. In order to look nice in your bikini bring along hand-made antipasti, such as bacon-plumbs in prosecco, a fresh sea-fruit-salad with lemon vinaigrette and mini-quiches with goat cheese, ruccola and tomatoes. Also a slice of self-made focaccia bread with fresh herbs and black olives has the power to brighten-up your day.

According to table wear and blankets, I'd say that everything colorful and comfortable comes up to my expectations. For very special occasions have a look at the huge offers at Textilmüller in Kritzendorf, close to Vienna. This trip is definitely worth a ride."
Question: You have worked long for an international beauty concern which is known for its extensive research on anti-aging. Some say carrot juices, water, green tea… can prevent sun damages of the skin. What do you think? Do you have any experiences about that fact?
Rosi Cobra: "To eat and drink are the two most important things in one's life. From my point of view anti-aging and health in general are based upon two main facts: Take care of your body from the inside as well as from the outside. When it comes to healthy meals, it´s definitely useful to rely on biological food, if possible from the region where you live. Therefore I always prefer markets and personal shopping at farms - you'll definitely taste the difference. Water and green tea are known to do great work concerning cellulite. Fruits and vegetables are rich of vitamins and make your skin look fresh and healthy. And in case of a sunburn milk or yoghurt mixed with honey help your skin to recover again."
Question: What should a 'health bag' for one day on the beach or pool contain?
Rosi Cobra: "A big bottle of water or tea. A fresh fruit salad with seasonal ingredients and lemon juice. And a mixed salad of carrots, cucumber and tomatoes with thin slices of chicken or fish."
Check out Rosi Cobra's site www.rosicobra.at.


more cuisine>>>