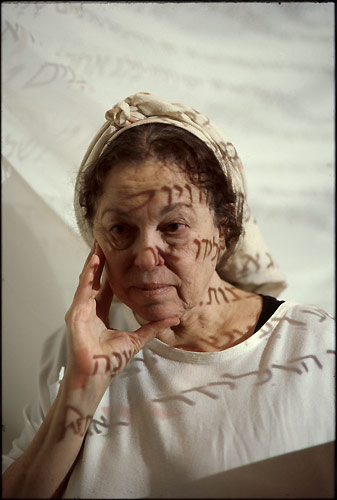 The Best of All Women
The Female Dimension in Judaism
16 May - 18 November 2007 Jewish Museum Vienna
visit the museum for more information www.jmw.at

fig.: Heléne Aylon, Selfportrait, Photography, 2004 © Heléne Aylon
The view on history changes through times, societies, gender. Women perceive historical objects often completely different than men.
The exhibition reflects on the role of Jewish women in a religious, economic, social and cultural context. The efforts by orthodox and non-orthodox women to redefine their roles in the Jewish religion is a subject of extreme topicality. In Germany in 1936 Regina Jonas became the first woman rabbi. Since then liberal and conservative communities, particularly in the USA, have been accepting women as rabbis. Dedicated historians have discovered, however, that over the course of time there have always been women who have stepped over the demarcation line defined by men. more culture>>>