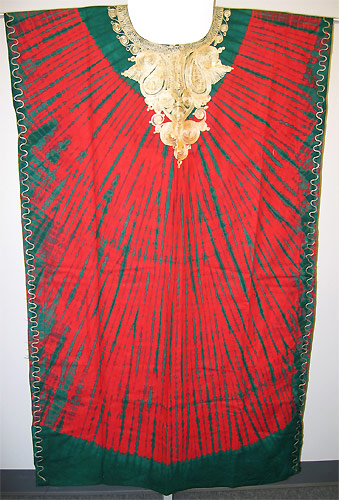 Defining Culture Through Dress
Individual and Collective Identities
19-21 April 2007, Conference at the Hofstra Cultural Center
Hofstra University, Hempstead, NY
Find the schedule at www.hofstra.edu

fig.: Red and Green Nigerian Dress
Fashion becomes meaningful through literature, religion, the mass media and has therefore the power to influence ethnic identity and our self-image.
Fashion Experts of the fields sociology, psychology, art, history, anthropology, communication, journalism and business will discuss on three days fashion's impact on culture and society.
Gender, cinema, symbolism of dress, eco-fashion, European - American - Asian identities, ... are some of the highlights presented by experts like Harold Koda, Curator-in-Charge, Costume Institute, Metropolitan Museum of Art, New York, Marlaine Glicksman of Vogue magazine, Isabella Campagnol Fabretti, curator of the Rubelli Textile Collection in Venice, Italy,... more culture >>>