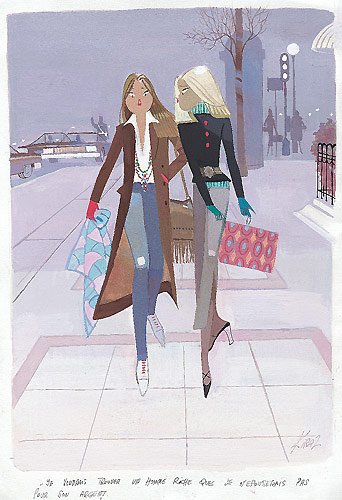 Les Parisiennes et la Mode
Hommage à Edmond Kiraz
17 November - 31 Dezember 2007
Galeries Lafayette Berlin www.galerieslafayette.de

The exhibition presents 37 fashion illustrations by the French artist KIRAZ alias Edmond Kirazian, born on 25 August 1923 in Kairo.

In the 50ies Kiraz created for the magazine JOUR DE FRANCE more than the look of "La Parisienne", he created her personality: fashionable, sexy, spiritual, and famous. He do this with an illustrated story about two friends and their daily activities: they drive chic sports cars, shop in boutiques, walk on exclusive Boulevards, go for diner to Bohemian restaurants, make men with their charm nervous, they marry rich men - but love young, poor guys,...
fig.: Copyright KIRAZ (free translated text: "I wish to find a rich man whom I don't marry because of his money."

From the 70ies on Kiraz worked for the PLAYBOY. His way to present the elegant, modern woman has influenced a whole generation of illustrators. If you like to know what is meant with the "flair de Paris", visit the exhibition or look at his books. more culture >>>

Books about the work of Kiraz published by Denoël:
- Elles et moi (2003-Denoël)
- Mini-drames (2005- Denoël)
- Jamais le premier soir (2001- Denoël)
- Kiraz dans Playboy (2002- Denoël)