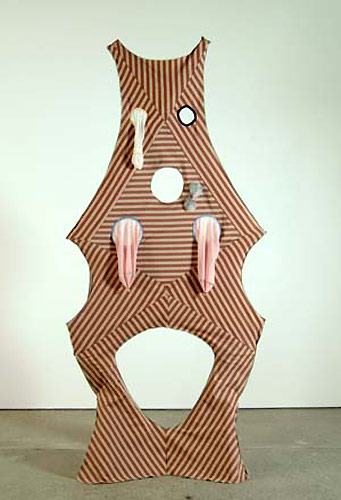 Don't Let the Boys Win
Kinke Kooi, Carrie Moyer, and Lara Schnitger
19 Sept – 9 Dec 2007 Mills College Art Museum, Oakland, CA
www.mills.edu/museum
fig.: Lara Schnitger Fun Bags, 2005. Cotton, Lycra, Fur, Wood, Pins 96 1/2 x 45 x 21 1/2 in. Collection of Blake Byrne, Los Angeles
Lara Schnitger's sculptures have an animated physical presence that makes it seem as if they might begin to move around the gallery. Each work is composed of a sewn fabric "skin" stretched over a wooden armature. The wooden structures are made from a series of joined long, narrow pieces, which point out into space and threaten to puncture the fabric into which they push. The literal tension on the fabric adds to the already emotional quality of the works.
Female perspectives Internationally recognized artists Kinke Kooi (based in Arnhem, Netherlands), Carrie Moyer (New York-based), and Lara Schnitger (Los Angeles-based) produce works inspired by an empowered female perspective. Boldness and humor characterize their work and many of the pieces are unapologetically erotic. Ornament and texture is integral to each of the artists' practices, and a hippie-inspired aesthetic is also at work. The title of the exhibition, borrowed from a sculpture of the same name by Schnitger, highlights the provocative playfulness of the work in this exhibition. more culture >>>

The Mills College Art Museum, founded in 1925, is a center for art that focuses on the work of women as artists and curators. Exhibitions are designed to challenge and invite reflection upon the profound complexities of contemporary culture. Don't Let the Boys Win is curated by Jessica Hough. This is Hough's first exhibition in her new position as director of the Mills College Art Museum.