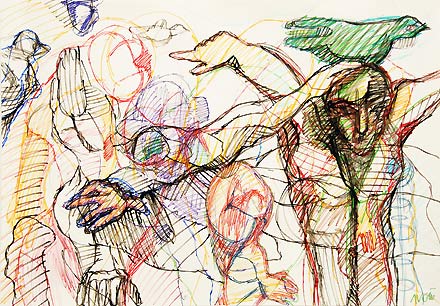 fig.: Farshid Maleki, 2009. Magic marker, metal pen and handmade felt tip pen on paper, 70 x 100cm.
What makes the paintings of Farshid Maleki different?
At first glance the drawings seem like scribbles -- one sees hundreds of lines and colours of magic markers shaping - in an apparent chaos - characters that are only alive in Maleki's inspiration at the time of the work of art itself, of the action. In the next impression, nothing is like disorder: a first layer of elements has been covered by a second and then by a third one and so on. This overlapping creates this very particular effect of anarchy while every single element is well balanced in its environment and interacting with each other. In that sense, the duality of 'Improvisation'.

The title of the exhibition '(No) Improvisation' with the 'No' between brackets is reflecting this duality.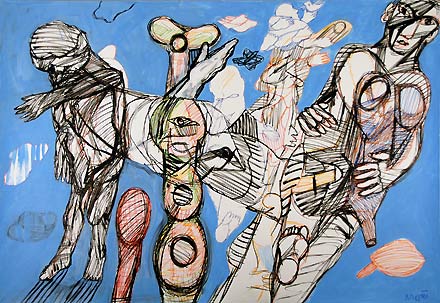 fig.: Farshid Maleki, 2009. Magic marker, metal pen and handmade felt tip pen on paper, 100 x 145cm.
(No) Improvisation

An exhibition of drawings by Farshid Maleki running at Dubai's B21 art gallery
22 June – 23 July 2009

By Caroline Zerrini.
The lifestyle editor reports from Dubai; www.textappeal.us.


Imagination and emotion are more important than that of mere sight
What may seem like a simple scribble is etched with a clear, creative flow. In fact, for Persian artist Farshid Maleki, the faculties of imagination and emotion are more important than that of mere sight.
Don't challenge the argument too much. Considered a master, Maleki has had some of the most successful young artists under his tutelage.

Mostly exhibited in Iran; he has had several exhibitions in the now closed Ghandriz Hall, a gallery that is recognized for having made a mark in the history of the contemporary Iranian art movement. He took part in all seven Tehran Painting Biennales and his works were acquired by the Tehran Museum for Contemporary Art. Famous for his art criticism, he has often contributed articles to several art publications.

He recently participated in New-York Thomas Erben Gallery's exhibition 'Looped and Layered' (April 2009). This season, Dubai\s B21 art gallery will host Farshid Maleki's first solo exhibition in the UAE (United Arab Emirates).
Maleki's radical style is not defined by content but by the ritualistic act of drawing itself, as if urgently executed in a continuous fit of impulsive scribble.
This seemingly unedited free flowing spontaneous style is just like the thought process, delving into a subconscious memory that taps into primal and daily issues. The result is a world of imagination, where colours and shapes hint at recognizable forms but spin off into wild abstractions of line and layering, eluding definition.
From the hand of a man well into his sixties, the drawings are characterized by simplified, irregular shapes rendered in a vivid array of magic markers, lending a sense of instability but instilling a palpable vitality. Fresh and agile, these graffiti-filled frames with funky black and magical colours pull one's attention inwards towards a storm of colour and form.
The first impression is of an abstract, scribbled chaos of stripped forms. Discs, circles and concentric circles creating apertures and grids mix with various visual incongruities whilst hands and feet are obsessively represented in all the works. At second glance, human and animal figures depicted in a primitive primal state emerge from the field of lines and shapes, and leave imprints as an echo of the central subject.
Through his shapes and their mutations, Maleki delivers a conception of form that is bound to 'gesture'. The relationship between form and gesture fuse and make each shape the result of a sudden eruption. Then, it is the 'interaction' between the components and the energy they release that obsess Maleki. In his tiny studio hardly allowing him to step back from his works, Maleki explains that what he aims to reach is a suitable dialogue (his exact words) between the personages, forms and the colours.
Through these themes – omnipresent in his work – Maleki's oeuvre describes a reality whose central preoccupation is a man's relationship with the world. Clearly some marks of distinction.
About Farshid Maleki
Born in 1943 in Tehran, he graduated in Graphic Design in Azad Faculty of Art, Tehran and then attended the University of Reading in the UK to obtain his MA in painting. Since his return to Iran, Maleki has been a teacher at four different universities in Tehran and Isphahan encouraging the young artists to overcome convention and challenge themselves.

About B21 Gallery
B21 Gallery is located in a warehouse in Al Quoz, an industrial area near the centre of Dubai. Since opening in 2005, the gallery has showcased over 25 exhibitions, all emphasizing the importance of risk-taking in contemporary art and challenging its visitors and collectors to unfamiliar terrain. Focusing on the emergent and innovative artists of the Middle Eastern region, B21's primary goal is to discover the future rising talent. As a nexus of such artistic development, B21 Gallery continues to provide unique opportunities for collectors
www.b21gallery.com.


Author Caroline Zerrini is living in Dubai. The lifestyle editor has extensive experience in creating and managing niche publications and cutting edge content. Caroline has spearheaded Text Appeal, an editorial consultancy service for editors and publishers.


more culture >>>