The Power of Ornament
(Die Macht des Ornaments)

21 January –17 May 2009
Orangery, Lower Belvedere
Accompanying catalogue at www.belvedere.at


The Webbing of Global Ornament

The studies of ornaments from different cultures by New York based artist Philip Taaffe are part of the exhibition at the Orangery of the baroque palace Lower Belvedere in Vienna.

Video: "What's This?" by Ari Marcopoulos. The artist Philip Taaffe in his studio in New York. Philip Taaffe's ornaments are superimposed upon each other in a psychedelic network of forms; as you can see on this video he does this in a shamanistic-like work-process. The result is a webbing of global ornament.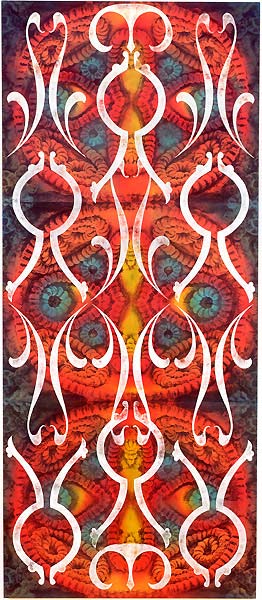 Philip Taaffe (born 1955) had his first solo exhibition in New York in 1982. His art is influenced by his travels to the Middle East, India, South America, and Morocco. In several books he speaks about his work such as in 'Drawing Dialogue. William S. Burroughs and Philip Taaffe.' New York: Pat Hearn Gallery, 1987.
On his website, Philip Taaffe publishes a statement about one of his paintings with the title 'Composition with Birds, Bees & Snakes 1995-96':
" ... My roots are from Ireland, and I suppose a subtext to my work must relate to these Celtic shamanistic traditions. The work is also about movement, or how we see in a constant series of glimpses. What do I want my art to accomplish? What do I expect it to be like as a physical encounter? I think the best thing one can hope for is to be able to enter into another world."
Philip Taaffe: Statement for Confluence (exhibition and catalogue). La Jolla: University of Caifornia at San Diego, 2001 philiptaaffe.info/Interviews_Statements/ConfluenceStatement.php

fig.: 'Viking Filigree Totem' by Philip Taaffe, 2008. Mischtechnik auf Leinwand 373 x 159,5 cm Courtesy Jablonka Galerie, Köln/Berlin © Philip Taaffe. Check out www.philiptaaffe.info.


International artists at the exhibition

International artists from the end of the 19th century to the present from Iran (Parastou Forouhar, Shirin Neshat, Monir Shahroudy Farmanfarmaian), India (Sakshi Gupta, Raqib Shaw, Hema Upadhyay), Pakistan (Aisha Khalid, Imran Qureshi, Rashid Rana), Austria (Adriana Czernin, Esther Stocker...), Lebanon, Great Britain, USA... demonstrate yesterday's and today's power of ornament to build cultural identity. The collected art works give you an impression how ornaments can signify the role of woman, the claim of totality and stereotypes.
Get inspired by Gustav Klimt's Water Snakes, textile designs by Josef Hoffmann, or the patterns by Sakshi Gupta and Hema Upadhyay (both from India), who employ patterns in order to reflcet about feminism and ethnic attributions. Raqib Shaw uses golden ornaments to establish connections with the tradition of Islamic pictorial languages; alongside he incorporates worms and instruments of torture, thus constantly breaking up a superficial harmony.


more culture>>>