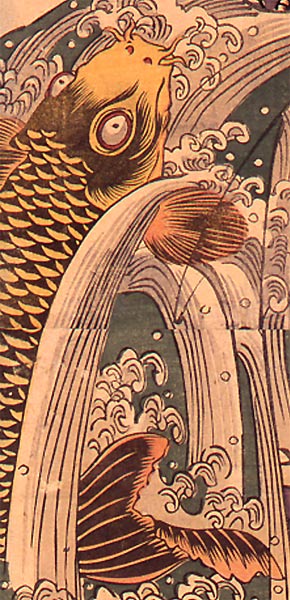 The amusement district as a source of fashion ideals
(Japanese woodcuts)
Die Vergnügungsviertel als modische Vorbilder (Japanische Holzschnitte)

4 Nov 2008 - 15 Feb 2009
Museum für Kunst und Gewerbe Hamburg www.mkg-hamburg.de


Japanese symbols on fabrics
The Museum for Arts and Crafts in Hamburg (Museum für Kunst und Gewerbe) presents since 2008 regularly exhibitions about Japanese culture. Currently the amusement district as a source of fashion ideals and its representation on Japanese woodcuts of kimonos is on the show.
In the 18th century the emerging middle class adopted the style of the extravagant courtesans with their opulent dresses and hair. On around 40 woodcuts you can find these elaborated kimonos accompanied by examples of the materials used and hair decorations.

fig.: Katsukawa Shunsen: courtesan in gala costume with six kimonos worn over each other Japan, c. 1790.
Coloured woodcut with blind stamp. (C) Museum für Kunst und Gewerbe Hamburg.

On her kimono you can see an upstream swimming koi fish; around him splashing water, cherry blossoms and lotus flowers. Until today the koi fish in this scenery is 'worn' such as on tattooed skin to express good luck and strength. The legend says that the koi fish becomes a dragon if he successfully swims up the falls ...
The New Yorker label Tees and Tats for example brings tattoos back again onto fabrics fashionoffice.org/design/2008/teesandtats12-2008.htm.


'Wa - Harmony in Everyday Life'
19 June until 4 October 2009
From 19 June until 4 October 2009 the next exhibition about Japanese culture will follow: 'Wa - Harmony in Everyday Life' is about contemporary Japanese design. Tableware, furniture, consumer electronics, information technology, clothes and accessories, ... are collected by the MKG in cooperation with the Japan Foundation.
The exhibition about traditional arts and crafts 'Simply Beautiful' will accompany the exhibition about contemporary design with strong focus on the mingei (folk art) movement. The mingei movement emerged in the 1920ies as a reaction against the industrialization and westernization of Japan. The spiritual leader was Sôetsu Yanagi (1889-1961) who advocated the revival of a combination of utilitarian features and beauty in objects of everyday use. His ideal was the anonymous traditional folk art of Japan and Korea.
The mingei movement has still great influence on the ideas of designers to the present day such as on the work by designer Sôri Yanagi, son of Sôetsu Yanagi. His best known product all over the world is the stool "butterfly", which he designed in 1956 and can also be seen in the design exhibition.


more culture>>>