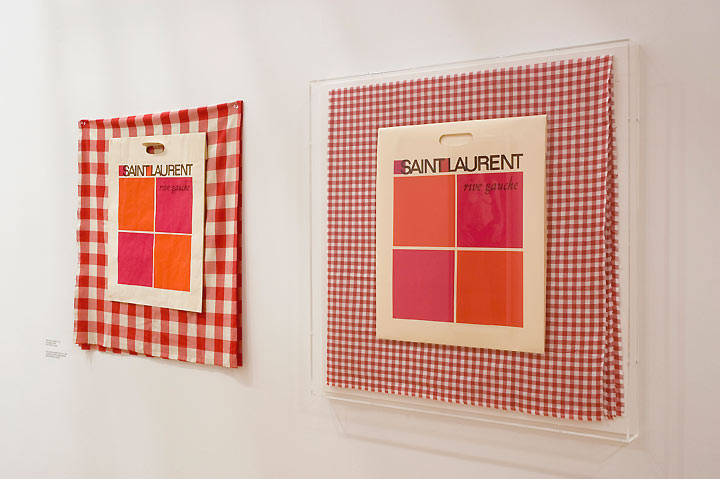 Cosima von Bonin
17 July - 3 October 2010
Kunsthaus Bregenz, Austria
Artist who speaks with the signs of fashion
The Austrian Kunsthaus Bregenz presents installations, textile paintings, sculptures etc. made of popular culture, fashion, and electronic music by the German artist Cosima von Bonin, born 1962 in Mombasa, Kenya, now living in Cologne, from 17 July to 3 October 2010. The artist's practical approach is very contemporary: she is constructing relations in the style of social media by using role-playing, collaboration, and appropriation to build humorous 'playgrounds' to reflect upon gender and identity.
It's up to the viewer to reflect upon the art work on the picture above. One possible question from the fashion-point of view: why has the artist set the shopping bag of a couturier like Yves Saint Laurent who has revolutionized modern women's wear in the 60ies and was the first designer who appeared during the 70ies in the French Vogue* with the new self-confidence of a homosexual man as a propagandist of the new fashion - even naked, on such traditional red/white checked fabrics for tables where the dishes are served in Central European country regions, which are mostly very conservative?
Read more about Yves Saint Laurent fashionoffice.org/culture/2008/saintlaurent2-2008.htm.

*Source: Media and the Communication of "Beauty". A semiotic analysis of the female role from 1950 through 1995 and its expression in fashion by Karin Sawetz (Mag. Dr. phil.); contents.


more culture>>>


fig.: Cosima von Bonin 'Roger and Out', installation view, The Museum of Contemporary Art Los Angeles, 2007. Courtesy Galerie Daniel Buchholz, Cologne/Berlin. The MOCA, the Museum of Contemporary Art Los Angeles, names Cosima von Bonin 'one of the most influential German artists of her generation' and dedicated her in 2007/8 the exhibition 'Roger and Out' with selected pieces from 1990 to 2007.