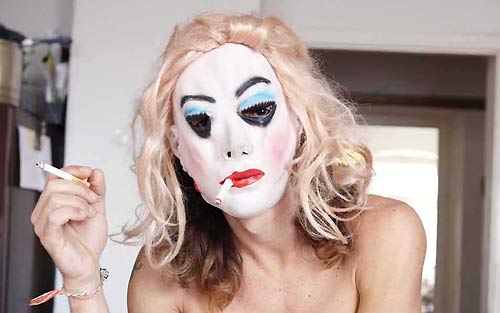 fig.: Art work/portrait of the New York based, Brazilian-born artist 'assume vivid astro focus' aka Eli Sudbrack. Photo: Diego Alonso (Mondografico.es) and Stefan Heinrichs (Stefanheinrichs.com).
The article with the interesting social media approach is written by Drury Brennan, photographed by Diego Alonso and Stefan Heinrichs. The three 'Flaunt'ers focused on the artist 'assume vivid astro focus'; yes, this is a name, a long name! It appeared recently in March 2010 on the website of the New Museum in New York on occasion of the exhibition curated by Jeff Koons (it's the first exhibition he curates) about the human body, genesis, evolution, original sin, and sexuality. Assume vivid astro focus (aka Brazilian-born Eli Sudbrack) is one of 50 artists alongside to Matthew Barney or Vanessa Beecroft who had been selected by Jeff Koons for 'Skin Fruit: Selections from the Dakis Joannou Collection'; the exhibition runs from 3 March - 6 June 2010 at the New Museum in New York.
The vibration of the acid-house rythm that Drury Brennan's words evoke makes this article about avaf's psychodelic art so authentic. The second reason is the social media aspect in the article. There are many ways to make a survey; Brennan's is a very creative one. The author closes the text with two lists of free associated acronyms for 'avaf' which stands for the name of the artist - yes, the long one: 'assume vivid astro focus'.
"But rather than write pseudo-journalistic sycophantic copy about a group whose work has to be experienced instead of described, we compiled a list of acronyms Sudbrack affixes to each of his emails. Then we asked an international group of participants from anonymous web community Omegle to join in the fun. Enjoy, and sometime before you die, partake of an avaf happening.
Eli Sudbrack's acronyms:
ass versus ass fuck
assim vai assim fica
abominable virtusical astronomicality fallopians
amazing virile artifice foudroyant
ants visit antarctica finally
asexual virtuoso ascertains fetishes
etc.
Omegle community acronyms:
a voluptuous anarchistic family
appropriating visuals amplifying freneticism
ambisexual volcanoes anarchic freakpower
abydocomists vomiting apparitional festivities
alchemical volatile assault friendly
etc." Flaunt Magazine, issue 107 (released Feb 2010)


'The Collected'
A Global Survey of Six Contemporary Artists
by Flaunt Magazine, issue 107 (released in February 2010)

Social media methods of a journalistic survey on art
In February 2010, the New York and Los Angeles headquartered printed lifestyle publication 'Flaunt Magazine' with focus on fashion, art, film, music, media, literature released in its issue 107 the article series 'The Collected - A Global Survey of Six Contemporary Artists'. Fashionoffice has selected one of the articles and looked closer at the work of one writer who uses social media as a resource for inquiries on art.
Flaunt Magazine started as a luxurious fashion title; the 1st issue was published in 1998. Today, the lifestyle publication releases 10 issues per year in 32 countries. The next issue (108) has US actor Benicio Del Toro on the cover.
Question: 'What's the editorial strategy of Flaunt Magazine?
Flaunt Magazine: "Flaunt Magazine covers lifestyle culture at its highest end with a delicate eye to both the extravagances and vulnerability of celebrity."
Question: "Why have you named the series 'The Collected'?"
Flaunt Magazine: "The name "The Collected" was derived from our goal of producing a snapshot of 6 contemporary artists we wanted to highlight for our art issue. Though very separate and distinct in style, we found the global impact of these artists ripe for display."







About the portrayed artist 'assume vivid astro focus'
Video: Exhibition at Deitch Studios in New York; posted in June 2008.

Jori Finkel has cited the artist in his article 'Dancing on a Ceiling (With Tom Cruise)' from October 2005 at the New York Times: 'Forget his polemics about the pope for a minute, he said; he wants "to reach people in ways they don't even know they are being reached." ... "So many artists back then used the tools of the media to critique politics," he said, "but that has since proved to be ineffective."'


more culture>>>