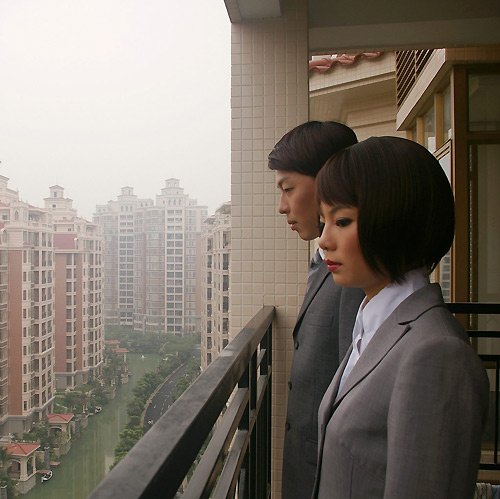 JUN YANG
participating artist at the exhibition
The World as a Backdrop
11 Dec 2010 – 6 Feb 2011
Galerie im Taxispalais, Tirol, Austria
What's real?
Vienna and Taipei based multimedia artist Jun Yang (born 1975 in China, since the age of 4 in Austria) questions our perception of time and space. He is one of 10 artists whose works about the simulation of 'real environment' are shown in the exhibition 'The World as a Backdrop' at the Galerie im Taxispalais, Tirol, Austria.
"As a result of mass media such as mobile telephones, Internet or advertising displays, we perceive the reality around us more and more as a space defined by the media; as an experiential and artistic sphere designed and developed for cultural performances like sporting and cultural events, tourism or the evolution of social identities." galerieimtaxispalais.at
fig.: 'Paris Syndrome' by Jun Yang, 2007. Farbfotografie auf Dibond, 50 x 50 cm. Courtesy Galerie Martin Janda, Wien. Loss of time, disneyfied urban landscapes, the authentic VS. tourist images are the keywords which are leading through the work of Jun Yang.
In 2008, Jun Yang's work 'Paris Syndrome' was already exhibited at the Vitamin Creative Space in Guangzhou, China. The art space and gallery Vitamin Creative Space searches on Chinese art within the global context by investigating the 'preconception' of culture. Curator Hu Fang publishes an article online which provides insights into the life of artist Jun Yang. Hu Fang travelled in 2007 from China to Austria to meet Jun Yang 'in reality'. vitamincreativespace.com/en/project/viewProjectTrack.do?trackId=20029


more culture>