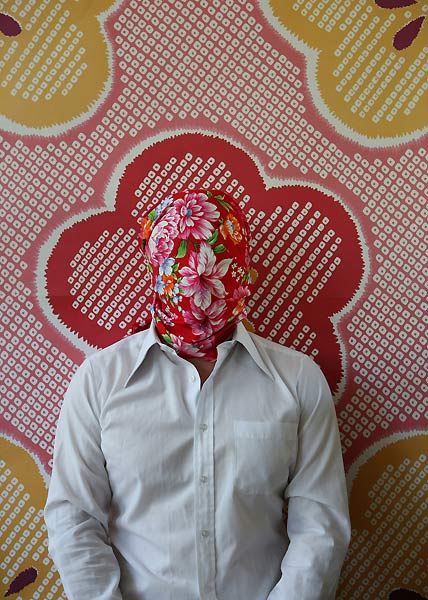 MICHAEL LIN
'The colour is bright the beauty is generous'
17 October 2010 – 13 February 2011
Centro per l'arte contemporanea Luigi Pecci, Prato (Italy)

Textile patterns that apply a 'home'-feeling to a museum
The work of textile addicted artist Michael Lin (born 1964 in Tokyo, lives in Shanghai and Paris; recently he was selected for a personal home series for Louis Vuitton 'The Journey of a Man's Wardrobe') is now on exhibition at the Centre for Contemporary Art Luigi Pecci in Prato, Italy. The museum was founded in 1988 by the Italian textile producer Enrico Pecci. Collaborators of the exhibition 'The colour is bright the beauty is generous' are the Japanese explorers of urban micro-architecture 'Atelier Bow-Wow'.
fig.: 'Untitled' by Michael Lin, 2010. Photo Walter Bettens for Damn magazine No. 25.
The floral 1950s inspired large-scale patterns on walls and floors look like decorative home interiors and evoke this way the intended 'home feeling'. The patterns are from his personal environment of traditional textiles from various cultures - for the exhibition at Centro Pecci, the textile motifs come from Taiwan. In his exhibitions, the artist transforms the museum into a space for human interaction, where people can meet art and join a public discourse.
"The exhibitions evokes a passage through a private home, including a living room, a bar, a games room, several salons, a library, a video room, even a garden and tea rooms." centropecci.it
At the opening on 16 October, Michael Lin has invited the museum guests to a special edition of Taiwan Beer and Long Life cigarettes.
Michael Lin in a video portrait about his work: "My work has moved away from the idea of a painting as an object. I'm more interested in creating a painting as a space to occupy." is Michael Lin cited on YouTube, Dec 2007. Michael Lin peaks on occasion of his keycard collection for the Le Méridien's 'Unlock Art'-program within LM100 (a group of cultural innovators and artists called Le Méridien 100).