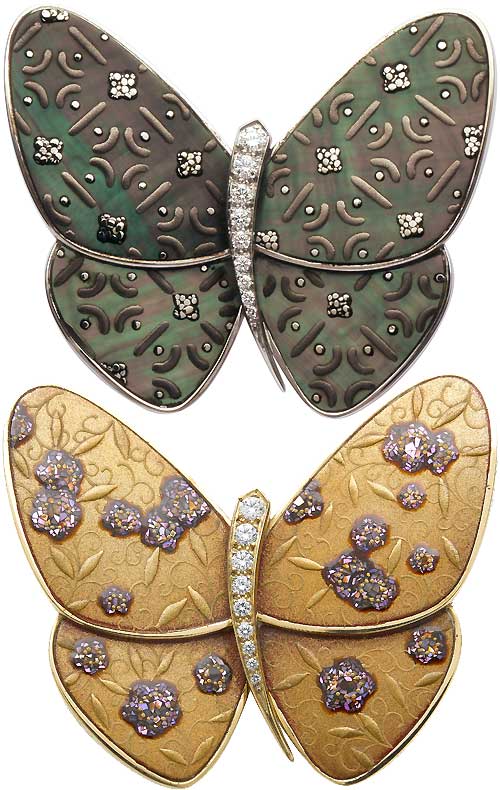 Van Cleef & Arpels
at Art Dubai
16 - 19 March 2011
The fragility of nature and four extraordinary journeys
On occasion of Art Dubai from 16 to 19 March 2011, the French high jewellery house Van Cleef & Arpels donates the purchase of a jewellery box to the educational children's program of the Start Association.
The jewellery box contains two lacquered butterfly clips, one golden-brown, the other bold black: day butterfly and night butterfly.
The butterfly is a signature motif at the collections of Van Cleef & Arpels. The symbol stands for lightness and the fragility of nature.
fig.: Waritsuke Clip (white gold, lacquer, grey mother-of-pearl and diamonds); Hana Karakusa Clip (yellow gold, white, pink and blue mother-of-pearl and quail egg shell). (C) van Cleef & Arpels.
Van Cleef & Arpels presents four pieces of the 'Les Voyages Extraordinaires'-collection in a scenery designed by the Argentinean director Alfredo Arias, who has set the fauna and flora inspired jewellery on four dreamful stages that remember 19th century SciFi pioneer Jules Verne's novels 'From the Earth to the Moon', ''Journey to the Centre of the Earth', 'Five Weeks in a Balloon'' and 'Twenty Thousand Leagues under the Sea'.


more culture>