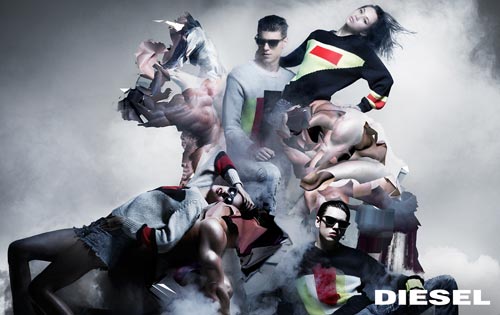 Diesel's digital community depicted in the style of old masters
On 29 July 2014, Diesel sent the new campaign FW2014 images. The campaign was developed by creative director Nicola Formichetti and Nick Knight and shows Diesel's community members - models (such as Kiko Mizuhara), actors (star of the campaign is Colton Haynes), musicians and the brand's fans from the internet - together with fragments of nude male sculptures. Some viewers might associate the ads with old master pieces such as French revolution paintings (image above: Eugène Delacroix' 'Liberty leading the people') or art works from times when sciences began to boost the human spirit (the picture below could make think of typical renaissance sceneries such as Michelangelo's famous 'The Creation of Adam').
Nicola Formichetti about the 'Neo-neoclassic' campaign for the leather-rock, denim, military-utility items of FW2014: "The new vision of the brand is strong for both men and women, it is a united vision. There are groups of boys and girls, slick and street, it all feels even. This is a mixture of people found in digital space as well as actors, models and musicians; it's an inclusive pop vision of all different kinds of people who are true to themselves. The casting is a big part of what we do at Diesel; it's the forming of a new kind of tribe."