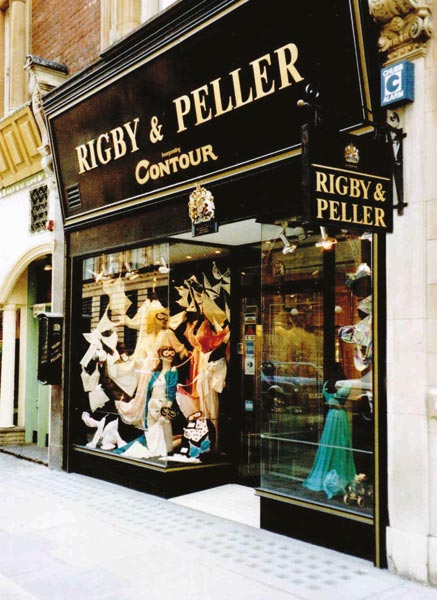 fig. above: Historical shot of the windows of the Rigby & Peller store during the 1980s in Knightsbridge, UK; (photo of today). Rigby & Peller was founded 1939 in London and expanded its business with shops in several other European countries and China.
fig. below: "I came in for a new bra, I left as a new woman." is the motto of Rigby & Peller which belongs today to the Van de Velde Group.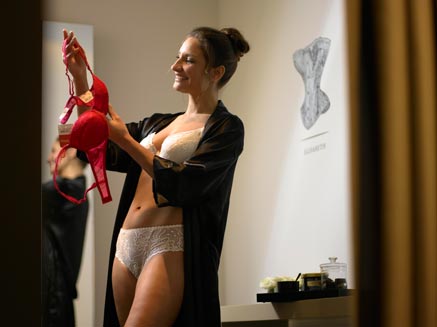 How a fashion movement causes clothing technological innovation
At the end of April 2014, lingerie stylist Rigby & Peller sent some historical facts about the bra.
The lingerie stylist with stores worldwide (and online shops) for own products and labels like Wolford, Andres Sarda, or Aubade (range fast checked on rigbyandpeller.de) focuses on the service to deliver bras which fit to the situation (evening wear, sport...) of a woman best. The fit of underwear was even the reason why a 19-years old American woman became creative, developed the 'brassiere' and was from 1914 on patent holder of the construction (story behind the invention on Wikipedia).
Rigby & Peller's historical facts end with the information that the young woman sold the patent some years later for almost nothing; but this American woman wasn't the only one who had the idea for more comfortable underwear than the corset provided at the turn of the 19th/20th century. Many patents for bra constructions circulated at that time; today in a global market, such a fashion movement for (not only physical) freedom would be 'found food' for lawyers - even when they might stop a development by ignoring facts. Fashion movements happen often at the same time in different regions - the outcomes look similar and nobody seems to know why when it happens. Well, after around 100 years in the case of the bra we know that there were many influencing trends which played dynamically together such as new economical and political situations (caused the feminist movement) or new technologies like the ones for mobility (bicycles, cars or airplanes) which required not only new looks but new clothing technologies such as Paul Poiret offered with corset-free couture. The bra is probably one of the best examples for this phenomenon of innovation waves. The bra as statement was such an important clothing piece during last century that even when women didn't wear one (flapper girls in the 20ies and later women during the 60/70ies), its absence constituted its presence as symbol of freedom.