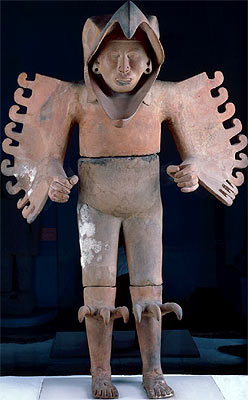 The Aztec Empire
18 March - 18 September 2005
guggenheim-bilbao.es
fig.: Eagle warrior, Aztec, ca. 1440–69. Fired clay, stucco, and paint. 170 x 118 x 55 cm. Museo del Templo Mayor, INAH, Mexico City. 10-220366. Photo: Michel Zabé, assistant Enrique Macías.
The most comprehensive collection of Aztec art and culture ever put together illustrates with around 600 objects of the 14th and 15th centuries (in Europe time of Renaissance) the social life of ancient Mexico. The period comes alive with the tools they used, the jewellery they wore and the riches of their sacred universe.
The remarkable figurines are used in religious rites... next>>>