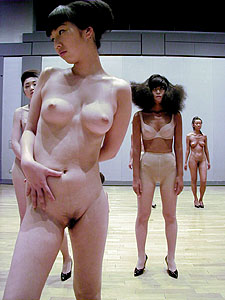 Vanessa Beecroft VB 45
Performance on the occasion of the Architectural Presentation of the new Kunsthalle Wien Building February 16, 2001, 6 p.m.
KUNSTHALLE wien, New Building MuseumsQuartier
Museumsplatz 1, A-1070 Vienna, Infoline +43-1-52189-33
17.2.2001 exhibition opens at www.meyerkainer.at
next (photo and german text)>>>
She makes installations that are performances in slow time; that are, at once, like painting, billboards, beauty pageants, sex fantasies, and pure technology wrapped into a strange production number of "take notice" images... Jan Avgikos (art historian and critic, New York) in Parkett 56/1999
It is for the first time that one of the spectacular performances by the New York-based artist Vanessa Beecroft can bee seen live in Vienna. Even before the Kunsthalle starts its 2001exhibition program in the new building in the MuseumsQuartier on May 9, one weekend in February 2001 will be reserved to give everyone interested an opportunity to visit the new premises.
The highlight of this architectural preview will be Vanessa Beecroft's performance 'VB45', a piece especially developed for the new large exhibition hall, which will be shown on Friday, February 16, 2001, 6. p.m.
45 almost nude female models are positioned by the artist in an impressive, precisely choreographed tableau that gradually changes in the course of the three-hour performance. Beecroft, born 1968 in Genoa, Italy, seeks to demonstrate the contrast between standardized ideals of beauty and individual bodily discipline in her art work. In her arranged living sculptures she depersonalizes the female body into a visual spectacle. The meticulously arranged situations do not fail to produce an effect on the audience. "Part of the provocation of the performances is the subtext of illicit eroticism that is 'performed' publicly–not by the hired models per se, but by the audience itself", the art critic Jan Avgikos describes the staging and the theatricality of the live event.
Curators: Doris Krystof, Gerald Matt
NEW BUILDING: Open House – Guided Architectural Tours February 17 and 18, 2001 KUNSTHALLE wien, New Building MuseumsQuartier, Museumsplatz 1, 1070 Vienna
Following the live performance on Friday, Feb. 16, 2001, Vanessa Beecroft's work will be shown on video on Saturday and Sunday. For two days, the Kunsthalle Wien provides everybody interested with an opportunity to take a look behind the scenes of the new exhibition building. Visitors will not only be able to see the two exhibition halls, the auditorium, the shop and the lobby, but also the new Kunsthalle restaurant situated in the former Imperial box of the winter riding hall, as well as all those spaces that remain carefully closed during exhibitions, the two large depots in the basement, the technical areas and the delivery and loading zones. Guided architectural tours will be offered every hour between 10 a.m. and 8 p.m. A guided tour of the lighting system by Zumtobel Staff will be held on both days at 2 p.m.
foto: 02V.Beecroft
VB 37 Spiral Wacoal Art Center Tokyo, Japan 1999
© 1999, Vanessa Beecroft Photo by: Vanessa Beecroft