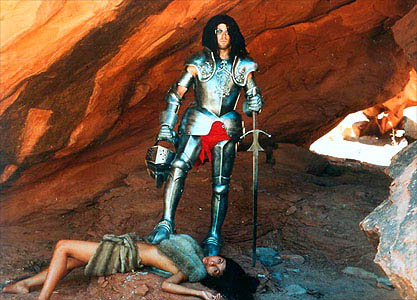 OLAF BREUNING

GALERIE MEYER KAINER - opening 16. january 2001
Eschenbachgasse 9, austria - 1010 vienna
interview with olaf breuning>>>
Olaf Breuning makes inversion machines. Remember the first time you gazed at one of his photographs, or installations? Your feelings transcended embarrassment, shame and outrage.
You might have been walking through his 1998 "Woodworld" installation, a Breuning classic: a dark tunnel in which visitors try not to bump into each other, followed by a cave where his nine minute movie, "Woodworld", is shown. The screen is filled with a glossy black Land Rover parked in a forest. People are inside. You see only their shadows through artificial fog, atificial snow and soap bubbles, set to dramatic and suspensful music. The lighting in the film goes from blue to red and back again.
The actors play with flashlights to show their white faces and black lips. Breunings universe conveys a totally transparent simulation, a mix of aesthetic codes, styles, attitudes, and cultures. There is n truth and no reality, only ambivalence. His precise style of embarrassment is a strategy that neglects connective tissues and laughs in the face of standard film production, whether the tradiional Hollywood film or the independents. Breuning`s work can be seen as an archive of different realities, much of which combines a "glam-trash" quality and a fascination with a seedier kind of art. This is where the inversion sets in and shame turns to excitement. In that sense Breuning`s attempts are also about the production of art and what makes it different from real-world productions.
Michelle Nicol______for purple prose
foto: Cavewoman, C-Print 2000