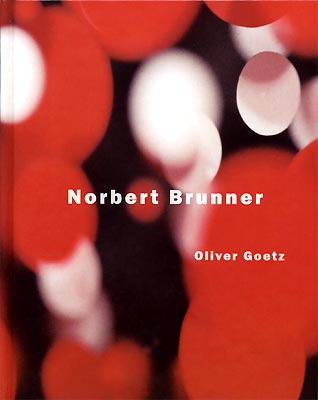 NORBERT BRUNNER
by Oliver Goetz
The story is told from the perspective of the author who is Brunner's friend and professed anti-manager. He does not succumb to the techno babble of today's art-speak, but tells the life story of Austrian object artist Norbert Brunner straight from the heart – a genesis revealing how a boy who carved wooden redeemers and monarchs of the glens became an international artist building huge inflatable pills and showing his work at the 2003 Biennial in Valencia.
192 pages, colour photos
introduction by william alsop
22 x 17 cm, hard cover
German/English
Price: € 25,00 / sfr 37,50
ISBN 3-85486-179-6
To order this book, you can either: Do it via the URL of the publishing house www.triton-verlag.com (German only)
Or you can send an e-mail in English to: bestell@triton-verlag.com
ABOUT NORBERT BRUNNER AND HIS ART:
The Austrian object artist Norbert Brunner was born on July 17th 1969 in Hohenems, Vorarlberg. He served a joinery apprenticeship and attended a vocational school for sculpture in Elbigenalp, Tyrol. Then he studied at the Academy of Applied Arts in Vienna under Prof. Wander Bertoni. He is a freelance artist since 1996. So far he has made exhibitions in Geneva, Prague, New York, Osaka, Kobe, Nagoya, Kyoto, Düsseldorf and Sydney. From June to September 2003 he participated in the 2nd biennial in Valencia.
His works are meant to provide a voluntary basis for the beholder to get a "broader" attitude of mind. This attitude stimulates the act of questioning all different types of thought contents. Only by this act, by constantly analysing one's own point of view it can be ensured that own thoughts and opinions are formulated rather than taking over other people's thoughts unquestioned. This process of relativising all perceptions can promote understanding and tolerance on a global scale.
This analysing and relativising is primarily an intellectual process, which Norbert Brunner intends to visualise with his works – by building objects whose appearances depend solely on the beholder's point of view towards them which the beholder can realise by interacting with them. This optical cognition is used as a metaphor and translated into all other spheres of our existence. Everything seen, perceived and experienced, all forms of art, culture or politic views are relative and only depend on the beholder's point of view towards them. In the area of art, Norbert Brunner focuses on the beholders and declares them artists.
In his objects he defines the dot as the lowest common denominator. Everything seen consists of these dots, which are located next or above one another and make up a perceivable image if seen from the right distance and angle. By putting adhesive foil dots on several layers of transparent acrylic glass and arranging these layers in a sandwich system, he can create seemingly spatial images. Upon changing the beholders point of view towards the object these images dissolve into many individual parts – thousands of dots – and reassemble only when seen from the "right" angle of usually 90 degrees.
As image material for his object, Norbert Brunner uses "well-known objects or texts of everyday life which are universally understandable and become the vocabulary of a global communication with the aim to reach as many people as possible. The images transcend lingual barriers and replace verbal communication to create a common ground for all beholders who are all put on the same level and treated equally. In the second step he confronts them with the idea that all their perceptions and personal points of view are just as relative as the object they are looking at.