Liam Gillick and Gabriel Kuri "por favor gracias de nada" April 3 to 26, 2003 Mexico City,
info@kurimanzutto.com next>>> kurimanzutto presents por favor gracias de nada, the most recent collaboration between Mexican artist Gabriel Kuri and British artist, Liam Gillick. Running from 3 to 26 April in Mexico City, the exhibition will be located in a shop taken over for the project.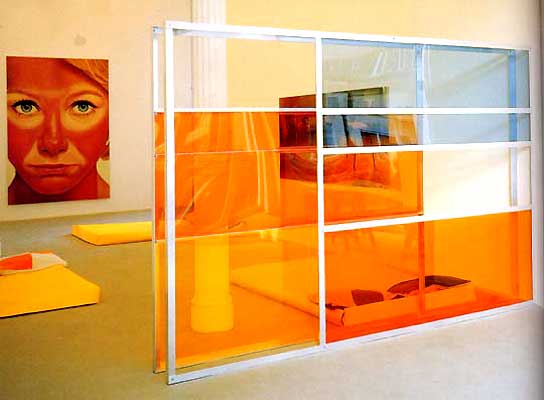 fig.: Liam Gillik
This exhibition is the result of an ongoing dialogue and provides an opportunity to witness the overlaps and resonances within their work.
Gillick has created two new works for the exhibition, "Discussion Corral" and "Liquid Renovation", which develop the rhetoric behind his Think Tanks, Platforms and Screens, gridded structures made from brightly coloured Plexiglas and aluminium. Operating somewhere between architecture, design and sculpture, these works ask us to negotiate space, thereby creating the potential for new or unexpected social encounters.
Gillick's new works are more open structures than his recent works, and abandon the use of multi-coloured Plexiglas. Instead they favour the painting of the gridded aluminium frame, leaving a more permeable structure, which can also be entered from one side.