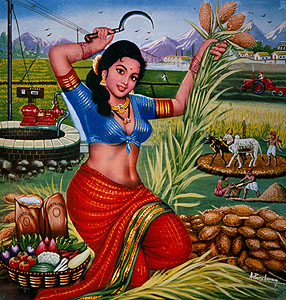 FROM GODDESS TO PIN-UP
Icons of Femininity in Indian Calendar Painting
28. February - 22. April 2001

After 'Cine Art. Indian Poster Painters at the MAK', the exhibition '>From Goddess to Pin-up. Icons of Femininity in Indian Calendar Painting' is the second MAK project dedicated to a characteristic aspect of Indian popular culture.
The exhibition in the MAK Works on Paper Room presents a selection of the gaudy calendar pictures pervasive in Indian shops, homes, and workplaces. Dating from between the 1960s and the present and ranging from the portrayal of Hindu goddesses ('dharmic icons') to pin-ups ('filmi icons'), these calendar pictures, reinterpreted by a feminist sociologist and through the presentation in a museum context, elucidate the role of women in popular iconography.
Indian 'calendar' or 'bazaar' art is both functional and decorative, secular and sacred at the same time.. Calendar pictures circulate as advertisements, gifts and icons, constituting a realm of its own in Indian popular culture parallel to the explicitly cultural forms. Since the introduction of lithography by the British colonial masters in the 19th century, Indian companies have distributed the calendars as 'ready mades' from the subtropical south to the north of the subcontinent. Hundreds of thousands of prepared designs, with blank spaces for the companies' logos and the calendar pictures, are printed in the major centers of Bombay, Calcutta, Delhi, Madras, and Sivakasi and distributed all over the country by agents.
Local presses and calendar painterscomplete these prints by adding pictures and company logos according to regional taste. This combination of centralized mass production and flexible artistic finishing in correspondence with the clients' wishes for circulation in the provinces makes calendar pictures, together with film posters, 'icons' of Indian popular painting. Since originality and copyright are regarded as categories without any importance in the trade, the techniques employed include painting over photographs and changing the colors during the printing process. Not only the mixture of photography and painting, but also the iconography of the posters reveals a collage of genuinely Indian and of Western motifs.
Thanks to the acceptance of popular art in galleries and museums, Indian calendar painting has been recognized as an important expression of artistic modernity in South East Asia. The calendar pictures shown in the exhibition come from the collection of Patricia and J. P. S. Uberoi and the collection of Vikram Lal, the owner of the Eicher Gallery, New Delhi. The exhibition also presents a number of ephemera of the Indian printing industry, such as postcards, admission tickets, and packaging materials.
Videos shown during the days of the exhibition in the media room will make the Western visitor familiar with the techniques of the 'applied art' of Indian calendar painting. The exhibition will be opened in the presence of S. E. Thettalil P. Sreenivasan, Ambassador of the Republic of India, and Patricia Uberoi, curator of the exhibition and sociologist at the University of New Delhi, who will introduce the subject. On the occasion of the exhibition, a leaflet and a postcard booklet with calendar pictures will be published.
fig.: Fertility/Fruchtbarkeit; A. Pashuram 1973; Foto: Sammlung Uberoi/MAK