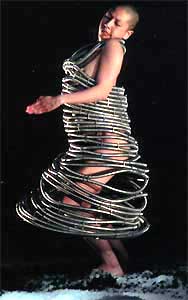 Shadow Pieces
A dance performance of and with Akemi Takeya
dietheater.at Premiere Oct. 28, 2002, 8 p.m.
Further days: Oct. 29 and 30, 2002, 8 p.m.
Ticket reservation: +43-1-587 05 04
foto: max moser
Imeka Produktion (artistic direction Akemi Takeya) will perform the play Shadow Pieces in the dietheater Künstlerhaus in Vienna from October, 28 to 30 within the framework of Image Tanz 2002.
SHADOW PIECES consists of 5 short scenes, which try to find out the meaning of shadows as memory, dream, fantasy, spirit, madness, loneliness and double with artistic use of nonsense and irony.
The first three scenes (Shadow 1 to Shadow 3) are solo acts of Akemi Takeya. Shadow 4 is a solo act of Miguel Angel Gaspar. The last scene (Shadow 5) is performed by both, Akemi Takeya and Miguel Angel Gaspar.
In the first three Shadows Akemi Tekaya has a good look at sleepwalking madness in acting terms, she investigates self-ironic the complexity of a figure between an artist and a cleaning lady and she makes transparent the boundary between real and unreal world by means of the figure of the shadow hunter.
The actress becomes the observer and hunter of her own shadow.
Shadow 4 and Shadow 5 are dealing with a fragment of the memory of the dead great-uncle, who has been a strange person, and with the loneliness of two persons, who are sitting in the same room.
Akemi Takeya has combined Japanese free dances with European dances in her artistic works. Based on physical expressions she has created an astonishing connection of movement and voice and has developed her own body language.
With radical movements, sounds, words and colours she creates a surreal poetry, which is frightening and fascinating at the same time.
Visual effects are leading the observer in Takeyas surreal world.
The first three Shadows have already been presented at the Image Tanz in the dietheater Künstlerhaus in March 2002 in Vienna.
Concept, choreography, performance: Akemi Takeya
Artistic accompaniment, performance: Miguel Angel Gaspar
Visual design: Krisha
Sound design: Arnold Haberl
Dramatic investigation: Nicole Haitzinger
Costume: Ewa Kaja
Production: Imeka