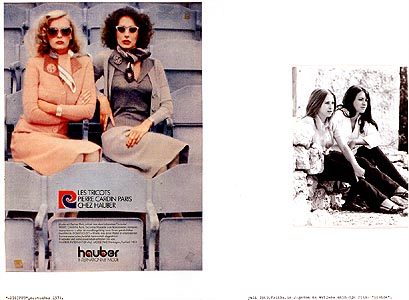 Sanja Ivekovic, "Personal Cuts"
www.galerieimtaxispalais.at Galerie im Taxispalais Galerie des Landes Tirol
April 7 through May 20, 2001
Sanja Ivekovic is one of the most significant artists of Yugoslavia (or Croatia). She is known internationally as one of the artists who developed their critical and artistically innovative ideas and works in the Seventies in the context of media and performance art. Today they have become increasingly influential for a younger generation of artists. Ivekovic's strong presence in venues, institutions and exhibitions that mark important stations of this art movement testifies to the international recognition her work has always enjoyed. The exhibition at the Galerie im Taxipalais is the first large exhibition devoted exclusively to the artist, offering a representative selection from both her earliest and most recent works. The exhibition provides a critical cross-section of her oeuvre, including early and current photographic and textual pieces, installations, a large selection of video works as well as documentary photographs of performances.
Since the beginning of her career as an artist in the early Seventies, Sanja Iveokovic has been interested in critically exploring the politics of imagery and the politics of bodies. The artist brings herself into play as a structural figure of reference in the wide field of representation - either by using photographs from her 'private' album or by appearing as a real actress in a performative action. Ivekovic shows how normed pictorial and also linguistic codes found in the media (advertisement, journals, newspapers, TV) and disseminated by these have become integrated in collective behavioural codes as well.
Her "Double Life" (1975), for instance, consists of 62 pairs of pictures; here Ivekovic has juxtaposed one image taken from an advertisement with a personal photograph which seems to be staged without any reference to the ad picture, while showing a certain parallel to the latter as regards the body poses taken. In this combination of conscious and unconscious mise-en-scčnes, Ivekovic anticipates Cindy Sherman in a number of important aspects. In "Tragedy of a Venus" (1975) the artist worked on the basis of a similar principle - this time, Marilyn Monroe serves as her figure of reference. In her early works, Ivekovic reflected on the specific socio-political situation in former Yugoslavia, an "extreme combination of consumption-cum-Communisms" (Bojana Pejic), in which a traditional patriarchal order had to reckon with differentiated incursions.
"Personal Cuts", the title of a video from 1982, was selected as the title of the exhibition at the Taxipalais, because it so aptly reflects Ivekovic's ideas and approach. In this documented performance, the artist once again transformed herself into a protagonist and confronted her onlookers with a black stocking pulled over her head. She then took a large pair of scissors and proceeded to cut one hole after the other in the mask which for the duration of a short moment revealed one section of her face, before it was then followed by a brief TV sequence that appeared to fill the blank. Ivekovic took the material for these sequences from a state TV program with the title "The History of Yugoslavia" which provided an image of the Socialist Federal Republic of Yugoslavia on the basis of documentary material from a period of more than two decades.
Ivekovic makes her cuts deliberately at specific spots so as to illustrate the relationship between individual and the media and, by extension, between social and political power. However, she does not claim a presumed "authenticity" for herself, but rather keeps working a found cliché. In "Personal Cuts", the official imagery produced by the state and used to create identity prove to be part of the artist's own history.
In the course of the Eighties and Nineties, Ivekovic gave her works an even stronger political thrust, turning to a confrontation of public political mise-en-scene (primarily realized through the media) with the so-called private realm. As activist and organizer, she has also initiated, and collaborated in, important projects which revolve around art, culture and theory. At the same time, she has also been personally actively involved in helping people, in particular, women afflicted by war violence as well as private terror.
Sanja Ivekovic participated in the Biennale Sao Paulo (in 1981), the Documenta 8, 1987, the Manifesta 2, Luxembourg, 1998 and the exhibition project After the Wall. Art and Culture in post-Communist Europe (Stockholm, Budapest, Berlin, 1999-2000). Sanja Ivekovic was born 1949 in Zagreb where she still lives today.
Catalogue: The Galerie im Taxipalais is producing a catalogue for the exhibition. The bilingual (German/English) volume contains texts by Bojana Pejic (curator of "After the Wall", Berlin), Nataša Ilic (art historian and theorist, Zagreb) and Silvia Eiblmayr. It will comprise some 90 pages, approx. 50 photographs in color and 50 black and white photos. Graphic design: Dorit Margreiter. Price at the Galerie: ATS 170, - / EURO 12.50 The book will be published by triton Verlag, Vienna. With kind support from Kulturkontakt Austria and Blumenhaus Innsbruck
Symposion "On the Politics of Bodies and Images" Saturday, April 7, 4 pm - 8 pm Speakers: Bojana Pejic (art historian and curator, Berlin), Nataša Ilic (art historian, Zagreb), Sanja Ivekovic (artist, Zagreb), Žarana Papic (sociologist, Belgrade), Annemarie Türk (Kulturkontakt Austria, Vienna), Katy Deepwell (editor of the journal 'n.paradoxa', London) Panel discussion
fig.: "Double Life"