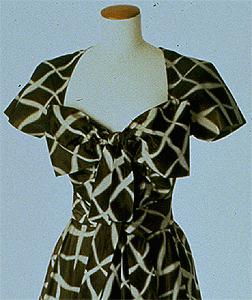 Exhibition Fashion Lives, Fashion Lives
August 20 to October 8, 2000


The Goldstein, University of Minnesota
http://goldstein.che.umn.edu

'40s and '50s American Fashion D
esign Comes to Life August 20 at The Goldstein
Fashion Lives, Fashion Lives focuses on a particularly exciting period in American fashion history—the 1940s and 1950s—when American fashion design emerged from the dominance of European designers. It was a period during which Hollywood made a tremendous impact on fashion. Some off-screen clothing worn by movie stars such as Joan Crawford, Greta Garbo, Rosalind Russell and Claudette Colbert are featured in this exhibit.
Guest Curator Margot Siegel, through Fashion Lives, Fashion Lives, brings the period to life with a personal look at four lives. Included are her mother, Madame Jeanne Auerbacher, Dayton's Oval Room's legendary buyer and early champion of American fashion; Gilbert Adrian, long-time MGM studio costume designer, Charles James, hailed by many as America's greatest fashion designer, and Pola Stout, textile designer who created fabric for Adrian's intricate designs.
As the daughter of the colorful Madame Auerbacher, Margot is in a unique position to tell the story of this "Golden Age" of American fashion design. She has a long and distinguished career as a fashion journalist, editor and author. The years immediately after the end of World War ll are particularly important to her, as at this time she was sent as a young fashion correspondent to Europe to establish the current whereabouts of famed European designers. For her, the exhibition is a happy opportunity to honor some key people in her life while illustrating for a new generation the significant contribution they made to fashion history. She has lent assorted photographs, personal correspondence and other archival materials which she hopes will give the exhibition its resonance, including speeches Madame Auerbacher gave to retailers and fashion groups, programs from fashion shows, telegrams from the Dayton's administration, and, most interestingly, some recently discovered letters of Charles James purchased at auction specifically for this exhibition. These letters provide information on his design inspiration, turbulent relationships with other designers, commentary regarding his clients, and the longevity of his designs.
Among the artifacts from The Goldstein's collection featured in this exhibition are a number of Adrian's designs including examples of his dramatic, draped evening gowns, a "carwash" dress, so-called because of the long strips of fabric that make up its construction, and his famously pieced and shaped suits; a Pola Stout geometric "blanket" used by the designer as a fabric sample; and a Charles James black satin evening coat, one of the sculptural designs he spent years perfecting. It belonged to Madame Auerbacher, who was mentioned as a personal client in the collectible book The Genius of Charles James, which is featured in the exhibit.
Several other nationally known design museums are lending artifacts. To establish Adrian's Hollywood connection, off-screen clothing from the wardrobes of Joan Crawford, Rosalind Russell, Greta Garbo, and Claudette Colbert will be on-loan. Also some of James' magnificent evening gowns, some so complicated in design that when they were delivered, the customers were not able to get in them. In addition, Pola Stout's daughters have lent "blankets" and clothing made from their mother's fabrics.
Mark Schultz is co-curator of the exhibit and Lindsay Shen is Director of The Goldstein. pening Reception: Sunday August 20, 2000 1:30 to 4:30 p.m., 241 McNeal Hall, St. Paul Campus
Opening Lecture: Margot Siegel, "Fashion Lives,
Fashion Lives: One Woman's Odyssey" 2:30p.m., 33 McNeal Hall
Visitor Information: The Goldstein: A Museum of Design, situated on the St. Paul campus of the University of Minnesota, is unique in being the only design museum in this region. Our mission is to raise awareness among diverse audiences of the ability of good design to improve and enrich our lives. The museum has a nationally renowned collection of clothing, textiles, and decorative arts. Admission is free.
Related Event: Oak Street Cinema 309 SE Oak Street 612- 331-3134 Film series in conjunction with the exhibit
co-sponsered by The Goldstein: September 26 Queen Christina starring Greta Garbo September 30 & October 1 Wizard of Oz starring Judy Garland October 3 Grand Hotel starring Greta Garbo,Joan Crawford, John Barrymore, ect.
The August issue of the Minneapolis St. Paul Magazine will include a special 16 page insert featuring photographs from the exhibit, essays on American designers, fashion photography, and Dayton's Oval Room.

##### THE BIRTH OF FASHION LIVES
Over the past two years there have been myriad ways I contemplated curating Fashion Lives, Fashion Lives at the University of Minnesota's Goldstein gallery. Did I truly want to dwell on my fifty-year passion for fashion as history and art, and also its place in our current pop culture? Or perhaps I needed to right two major wrongs I perpetrated on two now deceased major figures in my own life—my mother, Jeanne Auerbacher, and fabric designer Pola Stout—each of whom asked me to write her biography, and I turned them both down. Or maybe I should share what I remember about Charles James, one of the greatest American couturiers who was my mother's friend in the forties and fifties. Or I could use garments, accessories, and other artifacts I and many others have donated to the Goldstein over the years, have them photographed, and then write vignettes-sort of a cookbook of things instead of foods. Or maybe Gilbert Adrian, one of the best Hollywood designers ever, should be a focus.
As I mulled over all these possibilities while walking, sleeping, and reading, one quote kept rushing through my head. It was something famed art collector Peggy Guggenheim had written somewhere about herself. She said, "I am not a collector; I am a museum." And I realized her truth, which resulted in her fabulous art collection and associated artifacts, was also my truth, albeit, obviously, in a much more minuscule way. I, too, hungrily gathered art, clothing, accessories, photographs, and lots of kitsch, never with just the thought of accumulating, but always with the idea that others would ultimately share my beloved collection. So it turned out I had almost given myself permission to present a pastiche of my ideas, and hope for the best.
Voila-an exhibition was born, each item a piece of my life and also a remembrance of things past, a past perhaps unknown to younger generations. Please enjoy!
— Margot Siegel, Curator of Fashion Lives, Fashion Lives
Fig: "African" print taffeta dress by Adrian, 1940´s
photo: copyright Paul Najlis