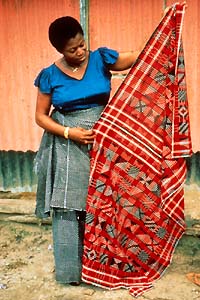 Exhibition Cloth is the Center of the World:
Nigerian Textiles, Global Perspectives
September 16, 2001 to November 11, 2001
foto: Kalabari woman holding and wearing as a wrapper known as pelete bite (cut- and pulled-thread cloth). Buguma, Nigeria. Photograph by Joanne B. Eicher.
Cloth is the Center of the World: Nigerian Textiles, Global Perspectives will focus on four specific types of contemporary textiles made and used in Nigeria. The exhibit draws from the collection of University of Minnesota Regents' Professor Joanne B. Eicher. Comprised of over 500 textiles, this is one of the largest privately held collections of contemporary West African textiles in the United States. The exhibition will link these Nigerian textiles to current research examining global, cultural, and historical contexts of West African cloth. Thematic interpretation in the exhibition will discuss the cloth as material culture-how it reveals and communicates aspects of ceremonial and everyday life in Nigeria, and how it reflects and shapes cultural and individual identity.
Approximately 75 to 100 textiles will be displayed in the gallery. Cloths will be shown flat, folded, and layered on walls, and wrapped on mannequins as they might be worn in Nigeria. Color photographic enlargements that show the context of both production and use will accompany the textiles. Other related items, such as hats, beads, or items of Western dress made from these textiles will add richness to the scene. A video produced by Joanne Eicher on a Kalabari masquerade performance will be played on a VCR in a small "theater format" in the gallery, bringing the movement and sound of the textile use into the exhibition. In addition, an illustrated catalog will be produced, and many of the textiles and their stories will be featured on an exhibition-related Internet website.