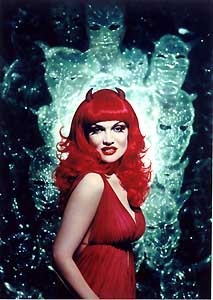 Pierre & Gilles
"ARRACHE MON COEUR" (take my heart)
14 February - 26 May 2002

foto: PIERRE et GILLES (Active since 1976)
LE DIABLE - Marie-France, 2001
Unique hand-painted photograph
69 x 49 cm / with frame: 114, x 75 cm
© Pierre et Gilles. Courtesy Galerie Jérôme de Noirmont, Paris
Pierre & Gilles met at a party in Paris in 1976 and have lived and worked together ever since, combining in their art photography and painting. Their early portraits have been of personalities like Salvador Dali, Yves Saint-Laurent, Paloma Picasso, Nina Hagen, Boy George, Catherine Deneuve, Kylie Minogue or Claudia Schiffer, nowadays they are of Marc Almond, Laetitia Casta, Dalida, Juliette Greco and others, which are exhibited in this show.
"ARRACHE MON COEUR" (Take My Heart) will bring together 75 works,
essentially all the work of Pierre & Gilles of the past three years and will mark a decisive stage in their work: dealing with totally new themes and worlds, their hand-painted photographs acquire a maturity and fullness which will undoubtedly surprise and delight all visitors. For over two decades
now, the works of Pierre & Gilles have been part of the collective unconscious. Through their methods of distribution and representation (album cover sleeves, film posters, advertising, collaborations with the most prestigious magazines, etc.), their creations, indelible and inimitable, have become not only known to all, but also loved by all, leaving
no-one indifferent.
Constantly redefining the limits of photography like no-one has done before, Pierre & Gilles are following the same working process for twenty-five years:
Pierre & Gilles start by designing the work they have imagined together on the basis of
the model and the scene they want to portray. Then they wholly conceive the theatrical settings, made from specifically selected, very varied materials, often found on their travels and shopping trips throughout the world. They also work on the lighting, to animate and magnify the subject by the play of angles and filters. They select and often do the costumes, make-up and hairstyles themselves, sometimes helped by the top specialists. Then Pierre photographs the scene as he and Gilles have imagined it.
Gilles then works on the single print with successive layers of paint and glaze, to achieve
a perfect image with an abundance of reality and poetry. Finally they create a specific frame, an integral element of the work, which in fact they consider as an extension of the imaginary world in the work they have created.
Each detail of their work is conceived through the vision of a magical world which corresponds to their imaginery reality. In this quest for absolute perfection, it is important to emphasize that Pierre & Gilles use no digital techniques in their work. The artists insist that the only way to produce their images is through meticulous, complex, manual methods. The result is a work of rare perfection, unique and irreplacable, which no digital software could produce with such poetry, subtlety, soul and finesse.
On the frontier between popular iconography and the History of Art, the style of Pierre & Gilles is unique: Pierre & Gilles have literally invented a precise and immediately identifiable stylistic territory between painting and photography, installation and stage direction. In these times, with such a diversity of signatures, inventing their own universe carried no guarantees; nevertheless, it paid off for Pierre & Gilles: becoming themselves a
reference, while constantly re-inventing themselves, and at the same time avoiding the pitfall of becoming self-referential.
Disturbingly strange...
Like the work which gives the exhibition its title, "Take my Heart" Aiden Shaw a young man literally ripping the heart out of his beloved, the recent works by Pierre & Gilles plunge us into an atmosphere of gloom. This new gravity is far from the light, frivolous world in which
Pierre & Gilles were long stereotyped. This disturbing strangeness, this poisonous world, which mingles terror and enchantment, horror and beauty, inhabits each of the works on exhibit. Eros and Thanatos, sex and death " essential elements in the work of Pierre & Gilles " infuse "Arrache mon Coeur" like never before.
The artists also touch on the theme of childhood. This is no happy, innocent childhood; Pierre & Gilles remind us it can also be a dark, tormented time. More bitter-sweet than their previous works, the images shown in "Arrache mon Coeur" tamp themselves lastingly in the viewer´s memory.
The self-portraits are undoubtedly among the most striking images created by Pierre & Gilles; they cover their entire career, and constitute essential landmarks for an understanding of their work as a major reflection on eternity and beauty.
Beyond the new themes treated, Pierre & Gilles will return to some of their favourite subjects: Asia will be present, but this time with a very contemporary viewpoint, far from Asia myth or the Asia of postcards. Pierre & Gilles will also reveal new religious scenes; having taken some distance with the official iconography of the Saints, here they will give us a much darker, harsher view of religion. Finally, some portraits of their famous will complete the exhibition in settings which are always astonishing...
The exhibition will be accompanied by a catalogue in German, English and French, available at the KunstHausWien MuseumShop.