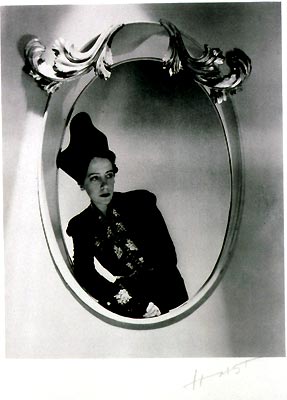 "Shocking!" The Art and Fashion of Elsa Schiaparelli
September 28, 2003 - January 4, 2004
philamuseum.org
fig.: ·photograph of Elsa Schiaprelli, 1934 Vogue, Conde Nast Publications, Inc. Photo by Horst. Courtesy Staley-Wise Gallery.
This survey will explore the Italian-born designer's career from its modernist beginnings in the 1920s, through its connections with surrealism, to the upheavals of war, the business struggles in the years thereafter, and finally the closure of her salon in 1954. It is particularly appropriate that this project has been undertaken by an American museum, for Schiaparelli readily acknowledged that her special relationship with the United States--sparked by the sale of a trompe l'oeil sweater to an American buyer in 1927--was the foundation of her great success, and her impact upon and relationship with the American fashion industry will be considered here in detail for the first time.