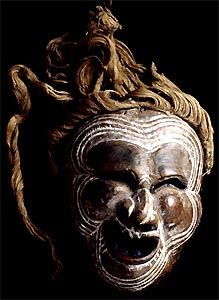 SHINTO
The Sacred Art of Ancient Japan
5 September - 2 December 2001
One of the leading events of Japan 2001, this exhibition features an extraordinary range of art and artefacts associated with the Shinto religion.
Shinto is the indigenous religion of Japan, more commonly observed in the contemporary social life and motivations of the Japanese people, than in a pattern of formal belief or philosophy. The exhibition is the first of its kind in Europe with important loan material from over 70 shrines, temples and museum collections on display including several National Treasures, key items from the great Shinto shrine of Ise and from the Imperial Household Collection itself.
The world of Shinto will be examined retrospectively, beginning in the 16th century and travelling back in time, culminating in the deep mysteries of prehistoric Japan. The visual iconography of the Muromachi ( 1333-1568 ) Kamakura ( 1185-1333 ) and Heian ( 794- 1185 ) periods will be displayed via magnificent wood sculptures and paintings that depict Shint« deities and their Buddhist hybrids.
Fig.:
Mask of an old woman. Kamakura period ( 1185-1333 ). Length: 17.6cm © Ch"sonji Temple, Iwate Pref.