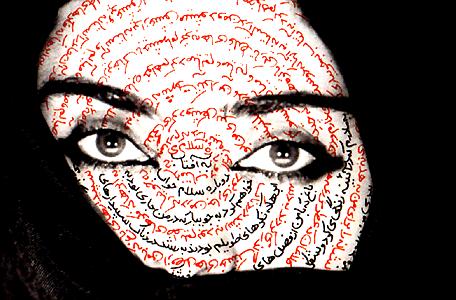 SHIRIN NESHAT
September 16-December 31, 2000
wexner center of arts
The Ohio University
TWO EVOCATIVE VIDEO INSTALLATIONS BY INTERNATIONALLY ACCLAIMED ARTIST SHIRIN NESHAT FEATURED AT WEXNER CENTER
Iranian artist's new Fervor developed under a Wexner Center residency "Among the first undoubtable masterpieces of video installation."-New Yorker, on Fervor Two works by internationally celebrated Iranian video artist, filmmaker, and photographer Shirin Neshat-including a new piece developed under a Wexner Center residency-will be on view at the Wexner Center September 16-December 31, 2000.
Shirin Neshat: Two Installations includes the widely acclaimed Fervor (2000) and Rapture (1999), both large-scale, two-screen video projections. Incorporating music and Farsi verse, Neshat's dialogue-free installations are elegant, evocative ruminations on women's lives in Islamic culture. The works also offer more universal commentary on concealment and disclosure, the individual and the group, and the public and the private. Neshat is the 1999-2000 Wexner Center Award Recipient in the Visual Arts.
Timeless and topical Commissioned by the Wexner Center and premiered at this year's Whitney Biennial, Fervor (10 min.), filmed in Marrakech, touches on the idea of romantic love in Islamic culture. A man and a woman watch each other at a crossroads and in a gender-segregated audience, with the two side-by-side screens showing the action from the different perspectives of the man and the woman. Critic Arthur C. Danto (The Nation) called the piece "powerful," and Art in America, in a review of the Whitney Biennial, tagged Fervor as one of the highlights: "Neshat's dialogue-free narrative is as full of memorable, emotive shots as an early Ingmar Bergman film, and at once timeless and topical in its subject matter."
In projections on opposite gallery walls, Rapture (13 mins.) shows an elaborately staged spectacle shot in Morocco: men in an open-air fortress and veiled women in a desert face each another across the dividing distance. "Rapture evokes the ambiguities implicit in her experiences of gender, religion, exile, and liberation and makes them universal," wrote the Village Voice. In both installations, the separate realms assigned to men and women in conservative Islamic society are underscored by the separate screens and by the women's wearing of the chador, the black robe covering most of the body. Bill Horrigan-the exhibition's curator and curator of media arts at the Wexner Center-writes in the exhibition catalogue that her work "is 'about' diasporic flight, the condition of women within Islam, the persistence of gendered segregation; Neshat's Iranian cinema does see all that but reports it back to us as though through glass, doubly." Both works in the exhibition feature seductive soundtracks by noted Iranian composer Sussan Deyhim, incorporating Eastern and Islamic melodies and sounds.
The installations complete a trilogy Neshat started in 1998 with Turbulent. Complementing the video installations are photographs, three from each installation. Catalogue An illustrated catalogue will accompany the exhibition, with a foreword by Wexner Center Director Sherri Geldin, an essay by curator Bill Horrigan, and an artist's statement. The 56-page softcover book will be available in the Wexner Center Bookshop. Shirin Neshat Born in Qazvin, Iran, in 1957-and still an Iranian citizen-Neshat has lived in the United States since 1974, first as a student in California and then as an artist based in New York. As a result of the Islamic revolution in Iran in the late '70s, Neshat was exiled from her native country until 1990. When she returned, she said, "It was shocking," she told ARTNews earlier this year. "Exhilarating because I had never seen a society in which everyone functioned under a common ideology and frightening because it wasn't like anything I had remembered." Neshat's works lend themselves to "open interpretation," she has said. "I see my work as a visual discourse on the subjects of feminism and contemporary Islam-a discourse that puts certain myths and realities to the test, claiming that they are far more complex than most of us have imagined."
Neshat was featured in this year's Whitney Biennial and the Greater New York exhibition at P.S. 1 Contemporary Art Center-one of only six artists to be exhibited simultaneously in both-as well as the most recent Carnegie International and the Venice Biennale, where she won the Golden Lion Award (the prize for the best single entry at this prestigious exhibition). Neshat has also been the subject of recent solo exhibitions at the Kunsthalle in Vienna and London's Serpentine Gallery.
Related events
· An Exhibitions Opening Party celebrating the three fall exhibitions will be held Friday, September 15 from 8 to 11 pm. The party is free for members and $5 for non-members. · Neshat will talk about her work in an Artist Talk Tuesday, November 14 at 7 pm in the Wexner Center Film/Video Theater. Admission is free.
· A symposium entitled Spaces of Resistance: Woman as Author and Image will be held Wednesday, November 15 at 4:30 pm in the Film/Video Theater. This discussion will focus on how women create personal, spiritual, and political voices within the often heavily restricted spaces they inhabit, particularly in traditional Eastern cultures. The symposium is moderated by Margaret Mills, chair of Ohio State's Department of Near Eastern Languages and Cultures. Panelists include Shirin Neshat; Farzaneh Milani, who teaches cultural studies in the Department of Asian and Middle Eastern Languages at the University of Virginia; and Wendy Shaw, art historian from Ohio State's Department of Near Eastern Languages and Cultures.
· Two Art & Ideas Gallery Talks are planned for the Neshat exhibition. Negar Mottahedeh, professor of cultural studies and comparative literature at Ohio Wesleyan University, will lead talk about Neshat's work on Friday, October 6 at 1 pm. Mottahedeh has written on issues of representation of women in Iran and is currently working on a book about Iranian cinema. And Iranian-born Farah Shadchehr, who teaches in Ohio State's Department of Near Eastern Languages and Cultures, leads a discussion on the changing role of women in Iran and the near east on Friday, December 1 at 1 pm. The discussions are free with gallery admission.
· Walk-In Tours will be held every Sunday at 1 pm (beginning October 8), free with gallery admission . Also on view this fall are Udomsak Krisanamis in gallery A and Ray Johnson: Correspondences in galleries B and C. Fervor is commissioned by the Wexner Center for the Arts at The Ohio State University through the Wexner Center Residency Award program, funded by the Wexner Center Foundation. Additional support provided by the Peter Norton Family Foundation and the National Endowment for the Arts. Promotional support is provided by WBNS 10TV.