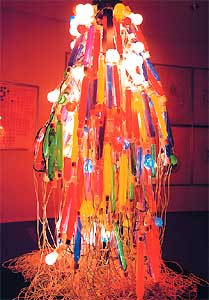 Atsuko Tanaka
Works from the Gutai-Period
September 7 - November 3, 2002
www.galerieimtaxispalais.at
fig.: Electric Dress, Reconstructed in 1986; Courtesy Takamatsu City Museum of Art
Atsuko Tanaka is one of Japan's most renowned avant-garde artists. She was a member of the Japanese Gutai group (gutai: concrete) which was founded by Jiro Yoshihara in 1954 and existed until 1972. The Gutai group brought together different artists who had experienced World War 2 and all its destruction, the historical background against which Gutai developed its avant-garde stance. The Gutai group in general, and Tanaka with her outstanding oeuvre, in particular, anticipated most significant formulations of post-war art of the West after 1945. They brought on the radical expansion of traditional painting and of sculpture in a spatial setting and in performative actions - a development that in Europe and the United States only began in the late fifties and early sixties.
Tanaka has redefined the relations between the body, artistic material, objects and the (exhibition) space in her installations, drawings and actions. She works with objects taken from everyday life, such as textiles, door bells and light bulbs. One of the most metaphorically laden works of the Gutai group is Atsuko Tanaka's Electric Dress of 1956, a combination of the tradition of the Japanese kimono and modern industrial technology. The "Electric Dress" which the artist herself wears in her actions consists entirely of wires and colored, flashing light bulbs. This piece already anticipated feminist issues which artists increasingly focused on in the seventies and before all the artistic use of the body in risky situations.
The exhibition will feature works from the fifties and sixties, in addition to three spectacular installations (one of them outdoors), numerous drawings and paintings as well as videos
of Tanaka's performances and three recent paintings. In addition the show contains documentation on the activities of the Gutai group.
The reconstruction of Work*, 1955/1992 (pink rayon, 1000 x 1000cm) placed in the Hofgarten, Innsbruck (vis-à-vis the Erherzog-Eugen-Monument) will be on the site from 7 to 22 Sept. 2002.
The Galerie im Taxispalais has been working together with the Ashiya City Museum of Art & History. Our thanks go to Koichi Kawasaki and Mizuho Kato, curators at the Ashiya Museum,
for their generous readiness to cooperate and comprehensive conceptual and organisational support.

Atsuko Tanaka (*1932) is celebrating her seventieth birthday this year. The exhibition at the Galerie im Taxispalais is the first solo exhibition of the artist on the European continent in a public art space. It will be taking place as part of the comprehensive program with a focus on Japan in Tyrol, www.japantirol.at, which will involve institutions working in music, visual and applied arts, literature, film and architecture based in the cities of Schwaz and Innsbruck. (The exhibition "Weiche Brüche. Japan" in the Kunstraum Innsbruck is open until 8 p.m. during the opening of the Atsuko Tanaka show).