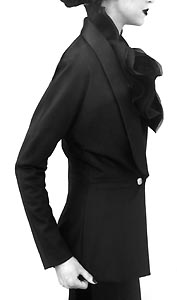 YEN YEN at the TIRANA BIENNIAL 1st

Yen Yen "My designs involve a deep understanding of how different fabrics adapt to the body, and this understanding continues to evolve with the many advances in the technology of textile production. Equally as important are a great consideration for intricate craftsmanship, close attention to detail, while maintaining a sense of fun and innocence. Growing up in the Philippines exposed me to the realities of extreme poverty and wealth. New York City offers a similar life on a much smaller scale. It is easy to create beautiful things when one lives within guarded walls. It is a much more difficult task to conceive beauty when one is immersed in a coarse and destitute environment. Living here is teaching me to seek out the beauty that exists in the simpler things, amidst all the chaos and brutality. It is my goal to create a world with a constant flow of creative energy, to produce timeless clothing that will change peoplešs lives, and to be completely present in the design process."
Daniele Balice is the curator of the fashion part of the biennial in Tirana. About 200 young and very young artists from all over the world, from most diverse tendencies, selected by careful international curators and artists, in a new parade, very curious, unforgettable. This is not any more a monocratic vision of today's art, but a real pluralistic vision, taking in consideration the differences and similarities.