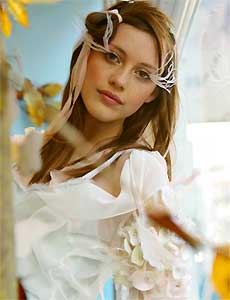 ELSPETH GIBSON
london
simple, clever, sophisticated, fun _ Elspeth Gibson is worn by some of the most glamorous and famous woman in the world including Madonna, Cate Blanchett, Liz Hurley, Uma Thurman and has also undertaken a private commissions from the likes of Queen Rania of Jordan.
Elspeth believes that fashion should flatter the female form and this philosophy is evident throughout her collections. Eveningwear is subtle and luxurious. Simple shapes and clever choices of fabric create sophisticated silhouettes that transcend decades. Daywear is fun and flattering, contemporary styles complimenting the modern women's wardrobe.
Elspeth Gibson won New Generation Designer of the Year 1998 at the British Fashion Awards and Best British Designer at the Elle Style Awards 1999.
September 1998 saw the opening of the first Elspeth Gibson boutique in London's Pont Street. The label is also sold in leading stockists around the world including Browns & Harvey Nichols in London, Bergdorf Goodman and Bagutta in New York and Isetan in Japan.
In October 1999 Elspeth introduced a range of luxury bath products to compliment the main line collection which is sold in her boutique, Harvey Nichols and Neiman Marcus.
The Victoria & Albert Museum have pieces from Elspeth's collection in their Library.
contact: Tel: 020 7935 2735, Fax: 020 7935 2739