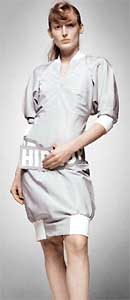 HOTEL
genuine luxury in fashion
hip-hop meets high-brow hollywood dramatics
Hotel-Collection Fall/Winter 2002/03>>>>
The U.S.A., with its longstanding tradition of self-innovation and
biography make-overs, plays host to HOTEL's very own reconstruction of fashion: The coded Hip-Hop street talk meets high-brow Hollywood dramatics. The union of sub-culture and highly artificial movie-set gives birth to E.T. - the Extra-Terrestrial, an universal Alien, an ugly duckling beloved by each and everyone.
foto: hotel-mo.de