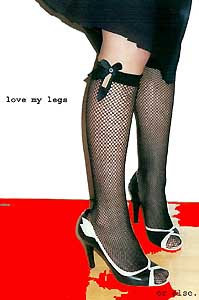 feveredDEVIANT's fishnets
sexy - not seedy
"We hope we have succeeded in designing the perfect fishnets," Morven explains, "We definitely wanted them to be sexy, but not seedy. I was apprehensive at first about choosing our signature red and black as the first colours, but am amazed at how pretty and unthreatening they look. They are as far removed from their traditional counterparts as we could hope for."
A pretty accompaniment to their 2002 collections, and an intentionally transitional design, fD's fishnet Knee-Highs have just been launched.
Made in collaboration with a long-established English hosiery company, Morven Kerr and Piero Landi, the 27 year old duo behind feveredDEVIANT, have worked at finding a balance between fishnet's usual image and a seriously more stylish look.
The coquettish Mille Feuille Fishnets, and two other hosiery designs for summer and winter 2002 can be found at the fD website & shop - www.fevereddeviant.com and selected stores worldwide.
retail approx : uk£16 / us$23 . One Size . Red or Black
foto: www.fevereddeviant.com